(Boeing news snippets, photos, videos submitted monthly by member Peter Ansdell)

__________________________________________________________________
News Item A-1:
"Boeing Delivered 763 Airplanes in 2017, Looks to Raise Production Rates" by Mark Nensel (ATW) Plus, January 9, 2018.
Boeing delivered 763 commercial airplanes in 2017, led by placements of 529 single-aisle 737s (including 74 re-engined 737 MAX variants) and received 912 net orders, valued at nearly $135 billion at list prices. Boeing (TBC) claimed an industry record for its 2017 deliveries and has now out-delivered its main competitor Airbus (EDS) for 6 years running, according to Boeing Commercial Airplanes VP Marketing Randy Tinseth. (TBC) met its 2017 delivery guidance "spot on," Randy said.
News Item A-2: "Reports: 2017 was Aviation's Safest Year Yet" by (ATW) Victoria Moores January 2, 2018.
Preliminary figures from 2 reports have shown 2017 to be the safest year in commercial aviation history, with no fatal large passenger jet accidents, although lives were lost in regional and cargo airplanes crashes. The Aviation Safety Network (ASN), a Netherlands-based company associated with the Flight Safety Foundation (FSF), reported a total of 10 fatal accidents in 2017, resulting in the deaths of 44 people on board and 35 on the ground. 5 of those were cargo flights, while the remaining 5 were non-jet passenger flights. The figures are based on world wide fatal accidents involving commercial airplanes certified to carry 14 or more passengers. The (ASN) said the 2017 figure of 1 fatality per 7.36 million flights was "extremely low," resulting in the safest year ever for commercial aviation, both in terms of the number of fatal accidents and the number of lives lost. In 2016, the (ASN) recorded 16 accidents with 303 fatalities.
"On December 31, aviation had a record period of 398 days with no passenger jet airliner accidents. Additionally, a record period of 792 days passed since the previous civil aircraft accident, claiming >100 lives," (ASN) said.
A separate report by Dutch consultancy firm "To70" agreed that 2017 was an "exceptionally good year" for civil aviation safety, reporting only 2 fatal passenger airline accidents, both involving small turboprops. "To70" limits its report to larger passenger aircraft with a maximum takeoff weight (MTOW) of 5,700kg/12,566 lb or above. Cargo flights are excluded. In 2017, (To70) recorded 111 accidents, 2 of which included fatalities, resulting in 0.06 fatal accidents per million large commercial aircraft flights. This compares with their 2016 figure of 6 fatalities from 71 accidents. "With so few fatal accidents to examine, it is worth remembering that there were also several quite serious non-fatal accidents in 2017. There is no room for complacency. Civil aviation, while an industry with a very high level of safety does still carry very large risks."
Commenting on the reports, (ICAO) Secretary General Fang Liu said, "(ICAO) is very encouraged that no major hull losses and very few fatalities were reported for 2017 flights. These results speak to the commitment and cooperation of the governments, operators, and professional men and women world wide who have worked so hard together to achieve them." (ICAO) will release its official safety data for 2017 later this year.
News Item A-3:"Media Reaction to 'Safest Year' for Airlines is Telling" by Karen Walker in (ATW) Editor's Blog January 2, 2018.
Preliminary figures from 2 reports issued at the start of the year hail good news for the air traveling public: 2017 was the safest year in history with no fatalities occurring on large commercial jets. Airlines, however, should note the general media reaction to this historic moment. The story (based on separate reports from 2 Netherlands-based companies) was mostly ignored, or covered mockingly because USA President Donald Trump appeared in a Tweet to claim the safety record was his achievement. Most telling of all, it generated headlines such as these:
* "Air travel was miserable in 2017, but at least nobody died in a commercial jet crash" (Washington Post).
* "While 2017 was safe for flying, it wasn't exactly fun" (Vox)
If the best that can be said about a service industry, even in its safest year, is that it is a miserable experience but nobody died, then there's a serious disconnect between what airlines think they provide and what their customers expect. The good news is that the facts underlying the reports result from an industry-wide ethos that does indeed put safety 1st, 1st and 1st. The people at airlines, manufacturers, regulatory and security organizations have worked ceaselessly over decades to improve commercial air transport safety and to learn from every single accident. The result is an industry that has achieved an astonishing global safety standard that in 2017 recorded just 1.2 incidents per million flight sectors, according to (IATA) statistics. But what the general media reaction demonstrates is that safety is a given (an expectation) and airlines can't sell it. The record is excellent across most regions and across different airline types, full service or low cost. It's not a differentiator. Yet, in some ways, airlines do continue to "sell" safety, or at least to hide behind it when things go wrong. When there's a delay or a cancellation, airlines are often quick to remind passengers that the inconvenience caused is necessary "because safety is our top priority." Many airlines still emphasize in their welcome aboard messages that the flight crews (FC) are there "primarily for your safety". What they should be doing is preparing for disruption and working to minimize the inconvenience. Safety videos and compliance with safety instructions are important. But if all airlines have accomplished in 100 years of commercial flying is that their customers say, "yeah, it won't kill me, but it's still awful," then this is a good year for airlines to work on customer service individually, and for the industry as a whole to work on its image. Let 2018 be the year of continued airline safety excellence and outstanding customer service.
News Item A-4: Boeing (TBC) began production (carbon fiber spars) of the 1st 777-9 for Lufthansa (DLH).
News Item A-5: Great Britain's Royal Air Force (RAF) has placed 9 orders of Boeing's P-8A (Military 737) Poseidon maritime patrol airplanes. The main role of the P-8A fleet will be to protect the UK navy's nuclear submarines and 2 new airplane carriers that will conduct search-and-rescue, surveillance and reconnaissance missions.
Nick Whitney, Director Business Development, Boeing Defence had announced at the July 2016 Farnborough International Airshow that Boeing would double the number of people directly employed by Boeing in the UK; there were at the time already >2,000. Boeing spent 2.1 billion pounds in the UK in 2016 and spent a greater amount in 2017.
The P-8As will be based at a new $100 million operational support and training base for European operations at (RAF) Lossiemouth, NE Scotland, creating >100 new jobs.
News Item A-6: "Norwegian Air Argentina is Granted (AOC)" by Jens Flottau, ATWOnline, January 29, 2018.
Norwegian Air Argentina received its air operator certificate (AOC) from the Argentinian government on January 26.
The much-delayed milestone is a major step for Norwegian Airlines to finally be able to start commercial flights later this year. The carrier has already been granted the authority for 72 domestic and 80 international routes now that Argentina has begun to liberalize its once much-restricted air transport market.
Norwegian Air UK (NUK) plans to start serving Buenos Aires from London-Gatwick in February. But the Argentina-based subsidiary will focus initially on domestic routes and services inside Latin America. The airline took delivery of its 1st Boeing 737-800 on January 15. Norwegian Air Argentina plans to start services between June and August, but has not yet defined a firm date. In Argentina's low-cost segment the carrier will compete with Flybondi, which started commercial services on January 26 and Andes, a legacy airline converting to the new business model. Aerolineas Argentinas (ARG) so far dominates the country's air transport market, but (LATAM) Airlines (LAN)/(TPR) has made inroads in recent years.
News Item A-7: "United to Add 3 Used 767-300ERs to Fleet" by Sean Broderick, January 30, 2018.
United Airlines (UAL) by broadening its used-airplane acquisition strategy to wide bodies, will add 3 Boeing 767-300ERs to its fleet in 2018, continuing a trend that has seen it tap the 2nd-hand market to boost its fleet significantly in the past 20 years. The 767-300ERs are said to be coming from Hawaiian Airlines (HWI) via Boeing Capital and will join (UAL)'s fleet in the 2nd half of 2018. (HWI) had plans to retire its 767 fleet this year. While the 767s are the only used airplanes included in (UAL)'s latest fleet plan, which envisions adding 24 mainline airplanes in 2018, executives are leaving the door open for more deals. "I love used airplanes, as many of you know," (UAL) Chief Financial Officer (CFO) Andrew Levy told analysts on a recent earnings call. "There will be many more used airplanes to talk about as time goes on and as we take advantage of the spot market."
(UAL) in 2015 broke a long drought of not adding used airplanes with several moves. It brought in 4 737-700s (2 via purchase and 2 on leases, Aviation Week's fleet database shows). Aviation Week's data shows that 14 have been added to (UAL)'s fleet, including 6 last quarter. Besides adding capacity via used airplanes, (UAL) has been improving its balance sheet by snapping up airplanes it leases when the time is right. Last year, (UAL) bought 46 airplanes off of lease, Levy said, and has +60 more leased airplanes expiring in 2018. "We probably won't buy all 60," Levy said. "It'll depend on the economics of each transaction, but that's a very efficient way to add to the fleet or to keep their fleet instead of buying new airplanes."
(UAL) plans to grow its mainline fleet from 744 airplanes on December 31, 2017 to 768 by the end of 2018. Additions include 4 777s, 7 787s, 10 737 MAX 9s and the 3 used 767s. (UAL) regional fleet plan calls for adding a net of 31 airplanes, boosting the fleet to 549 from 518 by year end. The regional capacity boost is part of (UAL)'s plan to fortify its domestic hub-and-spoke network by adding more spokes and more frequency on existing routes from smaller markets to its hubs. (UAL) plans to increase system capacity by +4% to +6% year-over-year each of the next 3 years.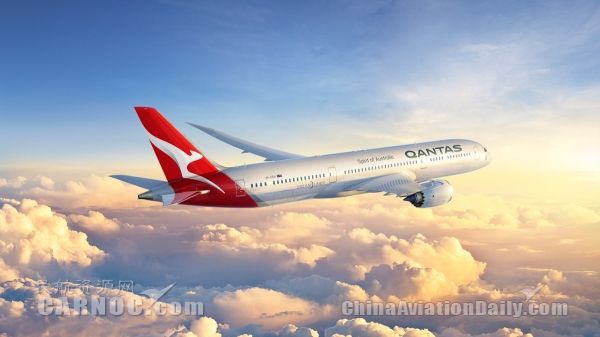 News Item A-8: "Qantas 787 Completes Transpacific Biofuel Flight" by Graham Warwick, January 30, 2018.
A Qantas (QAN) Boeing 787-9 has flown a transpacific flight using a biofuel blend, landing in Melbourne on January 30 after a 15 hour flight from Los Angeles. The General Electric (GEnx)-powered flight used a 10% blend of biofuel made from carinata. A non-food type of mustard seed, the carinata was developed by Canadian agricultural-technology company Agrisoma Biosciences. Under a partnership announced in 2017, the company is working with Australian farmers to grow the country's 1st seed crop for commercial aviation biofuel by 2020.
The carinata was processed into jet fuel by AltAir Fuels in Paramount, California, using Honeywell (SGC) (UOP)'s process for producing (HEFA) (hydroprocessed esters and fatty acids) biofuel, which is approved for use in aircraft up to a 50% blend with conventional jet fuel. AltAir is already using (UOP)'s process to produce biofuel for United Airlines (UAL) under a 3-year, 15 million gallon offtake agreement that saw the fuel being used in regular scheduled flights from Los Angeles (LAX) beginning in March 2016. The biofuel for (UAL) is made from tallow. Carinata requires no specialized production or processing techniques, (QAN) said. It is water efficient and sown in either fallow areas where food crops fail or in between regular crop cycles. As a rotational crop, it can improve soil quality, reduce erosion and provide farmers with additional income.
Field trials by the University of Queensland in Gatton, Queensland, and in Bordertown, South Australia, have demonstrated carinata should do well in the Australian climate, (QAN) said. In the USA, Agrisoma is working with the University of Florida to commercialize carinata to produce jet fuel.
News Item A-9: "(TUI) Group (CEO) Outlines Boeing 737 MAX Delivery Schedule" by Kurt Hofmann, (ATW) Plus, January 30, 2018.
Hanover, Germany-based (TUI) Group (TUG) plans to take delivery of +4 more Boeing 737 MAX 8s this year as it begins a major fleet renewal initiative. (TUI) took delivery of its 1st 737 MAX 8 this month. The airplane will be operated by TUIfly Benelux. (TUI) has 70 Boeing 737 MAXs on order (52 737 MAX 8s and 18 737 MAX 10s). "All these airplanes will be delivered in the next 5 years," (TUI) Group (CEO) Fritz Joussen said in Brussels.
News Item A-10: Boeing (TBC) remains in "active" and "productive" discussions with Embraer (EMB) and the Brazilian government over a potential alignment of the 2 airplane manufacturers, the (CEO) of Boeing said January 31. "We're working through the details of potential options going forward and doing that in a very diligent way," Boeing Chairman, President & (CEO) Dennis Muilenburg said during a teleconference on 2017 results.
News Item A-11: "Boeing Projects Another Record Year of Airplane Deliveries in 2018" by (ATW) Aaron Karp, January 31, 2018.
Boeing (TBC) expects to easily top the 763 commercial airplanes it delivered in 2017 (an industry record) by delivering 810 to 815 airplanes in 2018. (TBC) believes the cyclical nature of commercial airplane ordering has been mitigated by a "more balanced" base of airline customers, both geographically and in terms of types of airline business models, Boeing Chairman, President & (CEO) Dennis Muilenburg said. There is also a greater balance between growth and replacement orders, he noted. As a result, there is now a "more consistent, stable" airplane order stream than in the past. "Airlines continue to report robust profits, and passenger traffic in 2017 grew >+7% [year-over-year (YOY)] through November and cargo traffic exceeded 9% growth through November," Muilenburg said, adding that Boeing expects +5.5% to +6% (YOY) passenger traffic growth in 2018. Boeing Commercial Airplanes (BCA) booked 414 net orders in the 2017 4th quarter, taking its backlog to >5,800 airplanes valued at $421 billion. That equates to 7 years of production.
Deliveries are expected to be led again by 737s in 2018. (BCA) moved to a 737 production rate of 47 per month in 2017 and plans to raise the monthly rate to 57 in 2019. Production slots for the 737 are sold out into the early 2020s, Muilenburg said. (BCA) delivered the 1st 74 737 MAX 8s in 2017, including 44 in the 4th quarter. The 737 MAX program backlog stands at >4,200 airplanes. Muilenburg said >40% of 737s produced in 2018 will be 737 MAXs.
(BCA) 2017 revenue decreased -2% (YOY) to $56.7 billion, but the unit's operating profit jumped to $5.4 billion from $2 billion in 2016. (BCA)'s operating margin improved +6.2% points (YOY) to 9.6% and reached 11.5% in the 2017 4th quarter. (BCA)'s overall revenue fell -1% (YOY) in 2017 to $93.4 billion. (BCA) projects a rise in revenue to the $96 to $98 billion range in 2018, including $59.5 to $60.5 billion for the (BCA) unit. Boeing (TBC)'s 2017 net profit rose +67% (YOY) to $8.2 billion.

__________________________________________________________________
This has been submitted by Peter A Ansdell, retired Boeing Management employee of many years. Peter has offered this for your reading enjoyment by his efforts as the Founder and Managing Director of his website: http://www.7jetset7.com which he tries to keep readers up-to-date on world jet aviation progress, including current jet airline operators, cargo jet operators, worldwide jet airplane manufacturers, industry control bodies, e.g. (IATA) , (FAA), (CAAC) , space exploration advances, prominent parts manufacturers, with a focus on aviation safety, and new developments. Its all our future. Please help to nurture and assist with its advancement.
(206) 361-1536 (home/office – with recorder)
(206) 779-5703 (cell/mobile – no recorder, no texts)
Website: contact Peter for the cost of access to his website (http://www.7jetset7.com).
Email: p.ansdell@comcast.net