(Boeing news snippets, photos, videos submitted monthly by member Peter Ansdell)

__________________________________________________________________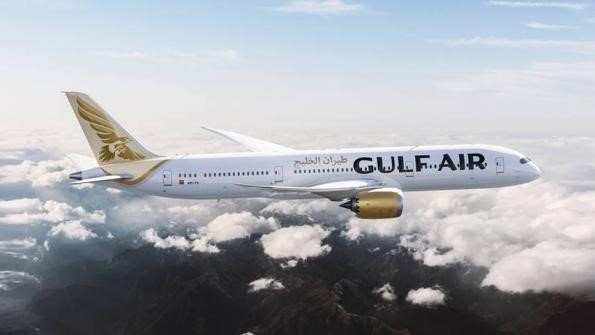 News Item A-1:
"Gulf Air Reveals New Branding, Prepares for 1st 787" by Alan Dron, April 6, 2018.
Bahraini flag carrier Gulf Air (GUL) expects to take delivery of its 1st Boeing 787-9 by the end of this month, (GUL) said April 6, as it unveiled the 1st look at its new branding. (GUL) expects its Boeing 787-9 (the 1st of 10) to be delivered on April 27. The 1st 2 787-9s will serve (GUL)'s 2x-daily London Heathrow service, offering increased capacity and improved on-board products and services, from June 15. The 787-9s will have a 2-class, 282-seat configuration with a 26C seat Falcon Gold business-class cabin, plus 256Y seats in economy.
A new business (C) class section will be "best in class," according to (CEO) Krešimir Kucko, who has said that new business (C) class seats had been bench marked not against other carrier's business (C) class, but first (F) class seats. While declining to give further details, he said the cabin would be considerably better than normal business (C) class offerings from other airlines.
(GUL) also unveiled its new branding. The current livery of a gold forward fuselage and dark blue engine nacelles will be replaced with an all-white fuselage, with oversized Gulf Air titles on the forward fuselage and a more naturalistic rendition of the company's falcon logo on the fin. The engine nacelles are painted gold. (GUL) said it will reveal further details over the coming weekend, during the Formula One Bahrain Grand Prix motor race.
News Item A-2: American Airlines (AAL) said it is ordering 47 of Boeing's 787 Dreamliners for long-range flying, expanding its 787 fleet and dealing a blow to Airbus (EDS)'s ambitions to expand its wide body airplane sales in the USA. The Boeing deal is worth $12.3 billion at list prices. With standard industry discounts, the actual value is estimated to be $6.3 billion. Adding more of the 787s will allow (AAL) to simplify its fleet and shed some of its oldest long range jets. In a related move, (AAL) canceled an order for 22 of Airbus (EDS)' twin-aisle A350 jets, from a purchase placed by (AAL) predecessor US Airways (USA).
The 787 deal marks the 2nd time this year that Boeing (TBC) has persuaded an Airbus wide body customer in the USA to switch to the 787. Hawaiian Airlines (HWI), the sole customer for Airbus' A330-800, decided in March to order 10 787s instead. In March, Bloomberg News reported that (AAL) had ruled out a competing Airbus bid for the A330neo. "This was a difficult decision between the Boeing 787 and the Airbus A350 and A330neo," Robert Isom, (AAL)'s President said. "In the end, our goal of simplifying our fleet, made the 787 a compelling choice." With the plan, (AAL) will reduce the number of wide body airplane types it flies to 3 from 5, reducing maintenance and training costs.
The new deal includes 22 787s (more than doubling (AAL)'s fleet of 787s, Boeing's current most advanced airplane). All of the 787s will will be powered with General Electric's (GEnx-1B) engines. The 787-8s will begin arriving in 2022, followed a year later by the 1st of the 787-9s, (AAL) said. (AAL) will use the 787s to replace aging Boeing 767-300s and later, its A330-300s, and the oldest of its 777-200s.
(AAL) also deferred delivery of 40 737 MAX narrow body airplanes to between 2025 and 2026. The airplanes originally were to arrive in 2020 to 2022.
News Item A-3: Car seating specialist Adient is waiting on regulatory approvals so it can begin its aircraft seating joint venture (JV) with Boeing (TBC). In January, Adient announced its entry into the aviation industry through a (JV) with Boeing. Adient will hold 50.01% of the (JV), with Boeing taking the remaining 49.99% stake.
Adient produces seats for around 1 third of all cars, making it the largest player in the automotive seating sector, Adient VP Innovation & Design-seating Richard Chung said, speaking April 9 at the Passenger Experience Conference in Hamburg. "We are going through the approval by the various governments for us to practice as a new company," Chung said. Clearances are expected over the next few months. Adient is entering the aircraft seating market because the company believes it can offer a more comfortable product, compared with current suppliers, with stricter time discipline. "Boeing and Airbus have been having problems with seat suppliers not being accommodating and not delivering on time. In our industry, if we don't deliver 99.9% of the time to customer's plants, we won't have the business. For us, time is golden. We want to bring that into airline industry," Chung said.
"Comfort is also something we can bring to the party, enhancing the passenger experience. When we look at all the seats in the airline industry, we think we can do better. We think there's more we can do [and] we think there's some room there." Boeing 1st announced it was exploring the idea of an airplane seating partnership with Adient at the April 2017 Aircraft Interiors Expo (AIX). At the time, Boeing Commercial Airplanes (BCA) seat/(IFEC) team director Alan Wittman told media that Adient had the potential to deliver more choice and value for the aircraft seating segment.
The companies have not disclosed which airplane types or cabin class they will target, or when their initial designs might go public.
Boeing has been working with new companies, like Adient and (LIFT) by EnCore, over the last 3 or 4 years to develop new partnerships for line-fit seats. Adient Aerospace's operational headquarters, technology center and initial production plant will be in Kaiserslautern, Germany, near Frankfurt. The (JV)'s initial customer service center will be based in Seattle.
News Item A-4: "Boeing, (GM) Urge Calm Trade Approach" by "China Daily," April 06, 2018.
A number of large commercial entities from the USA, including Boeing, General Motors (GM) and the American Soybean Association have urged the USA government to resolve the simmering trade dispute with China through constructive dialogue, and to seek sustainable trade policies. Their response came after China announced plans to impose 25% supplemental tariffs on 106 USA products, including automobiles, commercial airplanes, chemicals, and soybeans, as a response to tariff proposals from the USA President Trump Administration. Items on the latest list from Beijing include planes with an operating empty weight between 15,000 kg and 45,000 kg, which covers a series of Boeing 737 airplanes.
Some single-aisle Boeing airplanes, including the 737-700, 737-800, 737-900 and 737 MAX 7, are among the major plane models that Boeing exported to China over the past few years, and are among the products likely to see higher tariffs. As a possible trade war will affect businesses from both countries, Boeing (TBC) said that while both governments have "outlined positions that could do harm to the global aerospace industry, neither has yet imposed these drastic measures", the group said. "We will continue in our own efforts to proactively engage both governments and build on the recent assurances by USA and Chinese leaders that productive talks are ongoing. A strong and vibrant aerospace industry is important to the economic prosperity and national security of both countries," the USA airplane manufacturer said.
From 2018 to 2020, Air China (BEJ), China Eastern Airlines (CEA) and China Southern Airlines (GUN) plan to purchase more than 300 airplanes from the 737 series, according to their earnings reports. China is now the world's largest airplane market by sales volume. The country imported 60 billion yuan/US$9.52 billion of Boeing's products and accounted for 26% of Boeing's global production, said Lin Zhijie, an aviation industry analyst and columnist at Carnoc, China's largest civil aviation web portal.
"There is no significant difference in performance between Airbus' aircraft and Boeing's, and the product certainly can be replaced with a strong alternative," he said. The homegrown C919 large passenger jet, and the A320 series made by European aircraft manufacturer Airbus (the archrival of Boeing) are competing models of the narrow-body 737.
Meanwhile, Boeing is building a 737 MAX completion and delivery center in Zhoushan, Zhejiang province, China, and it is expected to go into operation in May. By the end of this year, Boeing plans to deliver the 1st 737 MAX plane directly from Zhoushan to a domestic airline.
News Item A-5: On April 10th Boeing updated its orders and deliveries database and it now shows that there have been a total of 670 787 deliveries until the end of March. The 787 program has already reached its break even point between July 2015 and January 2018. The total cost, including the development, has now been covered by the proceeds of the deliveries. As of the end of March 2018, Boeing has delivered 350 787-8, 319 787-9 and 1 787-10. Assume that the average price of the 787 is about $100 million USA dollars (to keep things simple). With 670 deliveries, the total income so far would be US$67,000,000,000 (67 billion US dollars).
The situation today is that Airbus (EDS) will acquire a majority stake in the C Series program without spending any cash and Boeing will create a joint-venture with Embraer (EMB) in the commercial aircraft sector. Those programs do not die, but they are simply taken over by the big boys. Is that a survival or is it a failure? It is difficult to say.
News Item A-6: Boeing and Qatar Airways (QTA) on April 10 signed a letter of intent (LOI) to purchase 5 777FDZ freighters, valued at $1.7billion at list prices.
News Item A-7: Boeing (TBC) firmed orders for 196 airplanes in March, valued at approximately $29 billion per Boeing's 2018 list prices, which, following the Singapore Air Show in February, have risen by about +4.2% compared to last year. Airbus (EDS), by comparison, booked firm orders for 8 aircraft in March, valued at about $900 million. Airbus' price increase for 2018, announced in January, was up +2% over 2017 prices.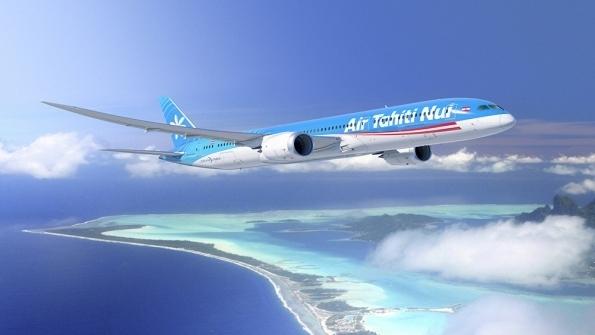 News Item A-8: "Air Tahiti Nui to Debut Boeing 787 in November" by Adrian Schofield, April 12, 2018.
Air Tahiti Nui (NUI) is preparing to inaugurate its Boeing 787s in early November, which will also mark the introduction of its new cabin configuration. (NUI), the French Polynesian carrier is scheduled to take delivery of the 1st of its 4 787-9s in October, and it is expected to begin operations in November 7, a (NUI) spokeswoman told (ATW)'s sister publication Aviation Daily. The remaining 787-9s are scheduled to be delivered in January, May and August of 2019. 2 of the 4 are leased and the others owned, with the leased airplanes to be delivered 1st. (NUI)'s 787s will replace its current wide body fleet of 5 Airbus A340-300s, of which 3 are owned and 2 are leased. The A340s are expected to be phased out on a 1-for-1 basis as the 787s arrive, with the last 2 A340s to be phased out when the 4th 787 starts scheduled service in early September 2019.
(NUI)'s initial 787 will be deployed on the route from Papeete to Auckland. (NUI)'s wide bodies are also used on flights to Tokyo, Los Angeles and Paris. Air Tahiti (NUI) is configuring its 787s with 3 classes (economy Y, premium economy PY and business C). The A340s currently have 2 classes, so the premium economy PY section is new for (NUI). The premium economy PY section will have 32 seats in 2-3-2 configuration, with the seats designed by French aircraft equipment company Zodiac Aerospace and featuring 38-inch pitch and 8-inch recline. The 787s will have 232Y economy seats in 3-3-3 layout, and are also designed by Zodiac with 31-inch pitch and 6-inch recline. The new business C class seats, designed by Rockwell Collins, will convert to full-flat beds. There are 30 seats in this section in a 2-2-2 configuration, with 60-inch pitch. The 787s will be equipped with Panasonic (eX3) (IFE) systems, with high-speed in-flight connectivity via Panasonic's eXConnect satellite broadband.
News Item A-9: "(IAG) Acquires 4.61% Stake in Norwegian in 'Attractive Investment'" by Jens Flottau, April 12, 2018.
The International Airlines Group (IAG) acquired a 4.61% stake in (LCC) Norwegian (NWG), a move that could see it take full control later. The (IAG) said it considered (NWG) to be an "attractive investment." The shareholding "is intended to establish a position from which to initiate discussions with (NWG), including the possibility of a full offer for (NWG)." The (IAG) said no such talks have taken place so far and that it has not yet made a decision to make an offer.
(NWG) shares rose by +40% in early trading upon the news. (NWG) said it had "no prior knowledge of this acquisition" and "has not been in any discussions or dialogue with the (IAG) about the matter. (NWG) believes that interest from 1 of the largest international aviation groups demonstrates the sustainability and potential of our business model and global growth." Should the (IAG) go ahead with the plan, the deal could be transformative for both companies, as well as the European air transport sector. The (IAG) would become an even bigger player not only in traditional hub flying, but also in the fast-growing European low-fare segment. It would also put the (IAG) into the pole position in the long-haul, low-cost market, for which (NWG) has been building a large base at London-Gatwick airport.
Norwegian (NWG) has been expanding aggressively, particularly on long-haul routes and, because of the massive expansion, made a loss in 2017 following a profitable 2016. (NWG) did not immediately comment on the (IAG) plans. It has holding an extraordinary shareholder meeting on April 13 because of a recent financing round. Should the (IAG) take control of (NWG), the deal would raise questions about its internal structure. The (IAG) could decide to merge (NWG) with its existing low-cost unit Vueling (VUZ) and Level (LVL), the long-haul, low-cost unit that just started flying. (NWG)'s plans to build a subsidiary in Latin America, Norwegian Air Argentina, may need to be reconsidered since the (IAG) is already an alliance partner with (LATAM) (LAN) and is linked to it through common shareholder Qatar Airways (QTA). The Lufthansa Group is also expanding its low-cost business through the Eurowings (EWG) affiliate, but the network is focused mainly on Germany, Austria, Switzerland and Belgium. Air France (AFA) – (KLM) has a much smaller low-cost offering, Transavia (TAV), growth of which is limited by pilot (FC) agreements.
News Item A-10: "Clark: Profits Up, Pilot Numbers Down at Emirates" by Alan Dron (ATW) Plus, April 12, 2018.
Emirates Airline (EAD)'s profits for its recently closed financial year will be "considerably better" than those for the previous 12 months, (EAD) President Sir Tim Clark said April 11. Speaking at a media round table event at Hamburg Airport, Germany following a visit to the adjacent Airbus assembly works, Clark said that a good 1st half of the financial year had been sustained for the remainder of the 12 months.
News Item A-11: Romanian low cost carrier (LCC) Blue Air (BLD) is preparing to take delivery of the 1st of 6 Boeing 737 MAX 8s in July 2019. The introduction of the new airplane and its new type of engines is a challenge for us," (CEO) Gheorghe Racaru said on the sidelines of the European Regions Airline Association (ERA) conference. "We have 6 737 MAX 8s on order, plus 2 options. With lessor Air Lease Corporation (ALE), we have an additional 7 737 MAX 8s in the pipeline.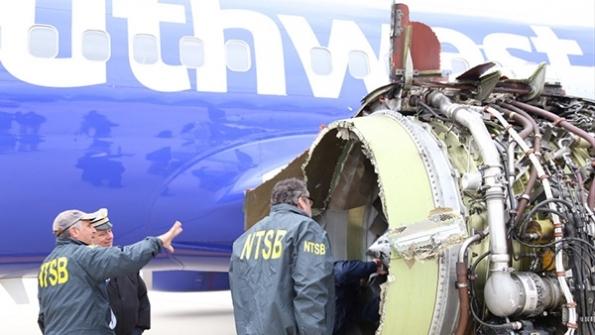 News Item A-12: "INCDT: One Fatality After Southwest 737 Mid-air Engine Failure" by "Aviation Week" Bill Carey, April 17, 2018.
A Southwest Airlines (SWA) Boeing 737-700 made an emergency landing at Philadelphia International Airport on April 17 after an apparent engine failure that caused 1 fatality. (SWA) flight 1380 was en route from New York La Guardia Airport to Dallas Love Field when passengers heard an explosion involving the left engine, which blew out a window and caused the cabin to depressurize, according to media reports. The flight crew (FC) diverted the 737 to Philadelphia.
The pilots (FC) including Captain Tammie Jo Shults guided the plane carrying 144 passengers and 5 crew to a smooth landing. The jet landed 20 minutes after the explosion. Powered by twin (CFM56-7B) turbofans, the 737 had reached an altitude of 32,500 feet before descending; it landed at 11:23 am. The 737, registered as (N772SW), was carrying 143 passengers and 5 crew.
Following the landing, the (FAA) imposed a ground stop for airplanes at other airports waiting to depart for Philadelphia. At 1:45 pm, the Philadelphia airport reported the ground stop had been lifted.
The passenger fatality was the 1st on a USA airline since 2009 and (SWA)'s 1st onboard fatality. In December 2005, a (SWA) airplane slid off the runway at Chicago Midway International Airport, through a fence and crashed into a car, killing a child in the car. "We are deeply saddened to confirm that there is 1 fatality resulting from this incident," (SWA) said in a late afternoon statement. "The entire Southwest Airlines (SWA) family is devastated and extends its deepest, heartfelt sympathy to the customers, employees, family members and loved ones affected by this tragic event. We have activated our emergency response team and are deploying every resource to support those affected by this tragedy."
The (NTSB) dispatched a go-team to investigate the scene. Briefly addressing reporters at Reagan Washington National Airport prior to departing for Philadelphia, Chairman Robert Sumwalt described the incident as "an apparent in-flight engine failure," but declined to use the term uncontained engine failure. I don't want to sound bureaucratic, but 'uncontained engine failure' connotates a very specific thing," Sumwalt said. "The engine is designed not to have an uncontained engine failure. There are protection rings around the engine to keep shrapnel from coming out. Even though we believe that there were parts coming out of this engine, it may not have been in that section of the engine that technically would qualify this as an uncontained engine failure." Manufactured by (CFM) International, the joint venture of (GE) Aviation and France's Safran Aircraft Engines, the (CFM56) engine type entered service in 1997 and has accumulated more than 350 million flight hours.
"The (NTSB) confirmed that there was 1 fatality. The (CFM) team worldwide expresses its deepest condolences to the family of that victim," (CFM) spokesperson Jamie Jewell said. "We have sent a team of technical representatives to the site to support the (NTSB) and the investigation, along with supporting (SWA)."
In August 2016, a (SWA) 737 en route from New Orleans to Orlando experienced an uncontained engine failure of the left (CFM56) engine after climbing to 31,000 feet. The flight crew (FC) landed the airplane safely at Pensacola International Airport.
News Item A-13: "Southwest's 'LUV' Heart Beats Through Tragedy" by Karen Walker in (ATW) Editor's Blog, April 18, 2018.
It's not something that any airline wants to be in a position to "get right," but what Gary Kelly and his team at Southwest Airlines (SWA) have demonstrated is the textbook way to respond to a disaster. Immediately it became clear that something had gone tragically wrong with one of its flights, (SWA)'s emergency response team was at work; with its people, with responders at Philadelphia Airport, where flight 1380 made an emergency landing, getting assistance to those affected, and communicating to the wider public its shock, condolences and what information it had.
USA National Transportation Safety Board (NTSB) investigators are on the scene to establish what happened and why.
For the 144 passengers and 5 crew, it was an awful ordeal. The left engine of the Boeing 737-700 exploded, hurling shrapnel through a window, which broke open. A female passenger was half sucked out of the plane and other passengers battled to keep her inside; she later died. Depressurization meant everyone was wearing oxygen masks and the remaining flight must have been terrifying, even though it was cooly and expertly flown to a safe landing.
But if airlines (or any service company) want a real-world guide on to how to respond in a crisis, they should look at how (SWA) handled this incident. The messaging was quick and easily accessible, distributed on social media, in press statements, at a press conference, and via the posting of a video by (CEO) Kelly.
In that video, Kelly looks shocked, calls it a "sad" and "tragic" day; he expressed his deep condolences to the victim's family and sympathy to all those affected. He said they are (SWA)'s top priority and pledged every assistance to them. He made clear that it was an engine failure and that (SWA) would give the (NTSB) investigation its full support. He thanked the crew and those at Philadelphia Airport for their actions. And he promised more information as it became available. With impressive speed, the company offered a "from the top" message of heartfelt condolences, assistance to those directly affected; transparency, gratitude to those who helped, and a promise to find out what went wrong.
No airline (CEO) wants to be in the position Kelly was in this week. But all airlines should have crisis communications plans. And while it will be no comfort to (SWA)'s People, they should be commended for their preparation and professionalism in a crisis.
News Item A14: "'Nerves of Steel': She Calmly Landed the Southwest Airlines Flight and Broke Barriers as a Fighter Pilot" by Samantha Schmidt, "The Washington Post," April 17, 2018.
In the midst of the chaos, Southwest Airlines (SWA) pilot Captain Tammie Jo Shults successfully completed an emergency landing of the Boeing 737 in Philadelphia, saving the lives of 148 people and averting a far worse catastrophe. The Captain's voice was calm yet focused, as her plane descended with 149 people on board. "Southwest 1380, we're single engine," Captain Tammie Jo Shults, a former fighter pilot with the US Navy, said. "We have part of the airplane missing so we're going to need to slow down a bit." She asked for medical personnel to meet her airplane on the runway. "We've got injured passengers."
"Injured passengers, okay and is your airplane physically on fire?" asked a male voice on the other end, according to an air traffic recording. "No, it's not on fire, but part of it's missing," Shults said, pausing for a moment. "They said there's a hole, and uh, someone went out." The engine on Shults' plane had, in fact, exploded, spraying shrapnel into the airplane, causing a window to be blown out and leaving one passenger dead and 7 others injured. Frightened passengers on board the Dallas-bound flight braced for impact as oxygen masks muffled their screams.
"She has nerves of steel," one passenger, Alfred Tumlinson, told the Associated Press. "That lady, I applaud her. I'm going to send her a Christmas card (I'm going to tell you that) with a gift certificate for getting me on the ground. She was awesome." Another passenger, Diana McBride Self, thanked Shults on Facebook for her "guidance and bravery in a traumatic situation." She added that Shults "came back to speak to each of us personally." "This is a true American Hero," she wrote. Others on social media agreed, even comparing Shults with Captain Chesley "Sully" Sullenberger, who glided his US Airways plane to safety in New York's Hudson River in 2009. It was also no surprise to her that Tammie Jo Shults was the pilot credited with the skillful landing. Shults' mother-in-law and friends described her as a pioneer in the aviation field, a woman who broke barriers to pursue her goals.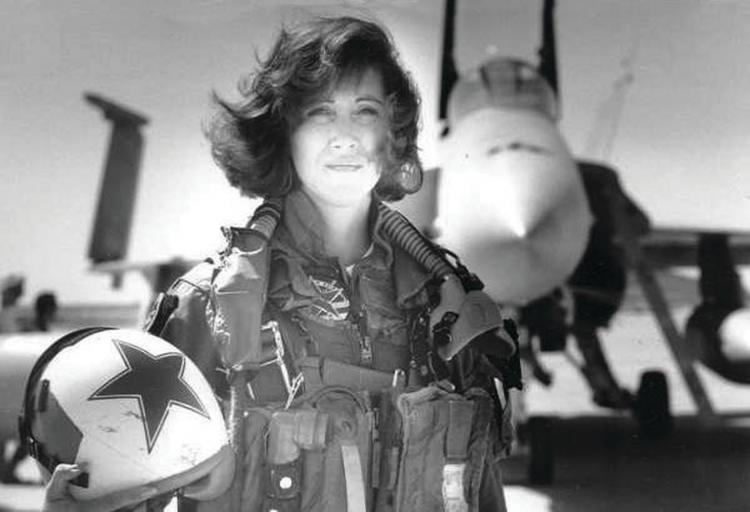 She was among the 1st female fighter pilots for the US Navy, according to her alma mater, MidAmerica Nazarene University, from which she graduated in 1983. Cindy Foster, who went to college with her, told the "Kansas City Star" that Shults was also among the 1st women to fly an F/A-18 Hornet for the Navy. "She said she wasn't going to let anyone tell her she couldn't," Foster said. Shults's persistence in becoming a pilot goes back to her upbringing on a New Mexico ranch, near Holloman Air Force Base, Shults wrote in the book "Military Fly Moms," by Linda Maloney.
"Some people grow up around aviation. I grew up under it," she wrote. Watching the daily air show, she knew she "just had to fly" She recalled attending a lecture on aviation during her senior year of high school, in 1979. A retired colonel started the class by asking Shults, the only girl in attendance, "if I was lost." "I mustered up the courage to assure him I was not and that I was interested in flying," she wrote. "He allowed me to stay but assured me there were no professional women pilots."
When she met a woman in college who had received her Air Force wings, she wrote, "I set to work trying to break into the club." But Shults, whose maiden name is Bonnell, wrote that the Air Force "wasn't interested" in talking to her. The Navy let her apply for aviation officer candidate school, "but there did not seem to be a demand for women pilots."
"Finally," she wrote, a year after taking the Navy aviation exam, she found a recruiter who would process her application. After aviation officer candidate school in Pensacola, Florida, she was assigned to a training squadron at Naval Air Station Chase Field in Beeville, Texas, as an instructor pilot teaching student aviators how to fly the Navy T-2 trainer. She later left to fly the A-7 Corsair in Lemoore, California. By then, she met her "knight in shining airplane," a fellow pilot who would become her husband, Dean Shults. (He also now flies for (SWA)).
Because of the combat exclusion law, Tammie Jo Shults was prohibited from flying in a combat squadron. While her husband was able to join a squadron, her choices were limited, involving providing electronic warfare training to Navy ships and aircraft. She later became 1 of the 1st women to fly what was then the Navy's newest fighter, the F/A-18 Hornet, but again in a support role. "Women were new to the Hornet community, and already there were signs of growing pains." She served in the Navy for 10 years, reaching the rank of Navy lieutenant commander. She left the Navy in 1993, and now lives in the San Antonio area with her husband. She has 2 children (a teenage son and a daughter in her early 20s).
Foster, her friend from college, told the Kansas City Star that Shults knew she "had to work harder than everyone else. She did it for herself and all women fighting for a chance." Her approach to parenting, described in the "Military Fly Moms" book, reflected a similar sentiment. "We endeavor to teach our children to be leaders, not lemmings," she wrote. "This is especially important when it comes to making the right choice while the crowd is pulling in the other direction." Gary Shults, her brother-in-law, described her to the "AP" as a "formidable woman, as sharp as a tack." "My brother says she's the best pilot he knows," Gary Shults said. "She's a very caring, giving person who takes care of lots of people." Whatever was going through her mind as she completed her landing, Tammie Jo Shults even made time to tell the control tower: "Thank you, thanks guys, for the help."
News Item A-15: "(FAA), (EASA) Issue Emergency Directives for (CFM56-7B) Inspections" by "Aviation Week" Bill Carey and Sean Broderick, April 20, 2018.
The (FAA) and European Aviation Safety Agency (EASA) late April 20 issued emergency airworthiness directives (AD) calling for inspections of fan blades on (CFM56-7B) engines that power Boeing 737NGs. The emergency (AD)s come 3 days after a (CFM56-7B)-powered Southwest Airlines (SWA) 737-700 carrying 144 passengers and 5 crew made an emergency landing at Philadelphia International Airport after experiencing an apparent left-engine explosion. One passenger died in the incident. The directives follow a service bulletin (SB) engine manufacturer (CFM) International also issued April 20, recommending that fleet operators perform ultrasonic fan-blade inspections "within the next 20 days" on high-time (CFM56-7B) turbofans. The (SB) recommends inspections at different thresholds for all blades, with the highest-time blades (those with 30,000 or more cycles) needing inspections immediately. (CFM) also recommends repetitive inspections. (EASA)'s (AD) adopts the (SB), while the (FAA) (AD) only mandates one-time inspections on the highest time blades. The (FAA) plans to follow up with another (AD) that would cover the rest of the blade population and possibly require repetitive checks. The (FAA)'s (AD) describes its requirement as "a one-time ultrasonic inspection (USI) of all 24 fan blade dovetail concave and convex sides to detect cracking" within 20 days.
(EASA)'s directive supersedes an (AD) the (FAA) released in March, which became effective on April 2 and was in response to an August 2016 (SWA) 737-700 uncontained engine failure. "Since the AD was issued, a further failure of a fan blade of a (CFM56-7B) engine has been reported," (EASA) said.
The USA National Transportation Safety Board (NTSB) initially found that 1 of the 24 titanium alloy fan blades in the engine in the April 17 (SWA) incident had separated from the fan hub, where there was evidence of fatigue cracking. The safety board has said it is too early to say if the 2016 engine failure and the latest incident are directly related.
(CFM), the (GE) Aviation/Safran Aircraft Engines joint venture, said there are roughly 14,000 (CFM56-7B) engines in service. The fan-blade inspections recommended within 20 days would be for engines with more than 30,000 cycles since delivered new (each cycle consisting of an engine start, takeoff and landing, and full shut down). That affects about 681 engines world wide, of which 150 have already been inspected, (CFM) said. Some 352 engines would be affected in the USA, the (FAA) said. (CFM) said it issued the recommendation in "close collaboration" with the (FAA), the (EASA), Boeing (TBC) and (CFM56-7B) operators. (CFM) recommends inspections "by the end of August" for fan blades with 20,000 cycles, and inspections of all other fan blades when they reach 20,000 cycles. After the 1st inspection, the manufacturer recommends operators repeat the inspection every 3,000 cycles, which represents about 2 years in airline service. Inspections can be conducted on-wing with an ultrasonic probe along the surface of the fan blade and take about 4 hours per engine, (CFM) said. "About 60 customers world wide operate engines within the cyclic thresholds of the new service bulletin," (CFM) stated. "(CFM) partners (GE) and Safran Aircraft Engines have about 500 technicians (MT) directly involved to support customers and minimize operational disruption."
News Item A-16: "Boeing Delivers 1st New 737-800BCF Converted Freighter Model" by Alan Dron, April 20, 2018.
(GE) Capital Aviation Services (GECAS) has taken delivery of the 1st Boeing 737-800 converted freighter (BCF). The initial airplane will be operated by Sweden-based West Atlantic Group (AAG). "The additional capacity and Next-Generation efficiency offered by this new airplane will deliver real benefit to our customers," West Atlantic (AAG) (CEO) Fredrik Groth said. "With the 737-800BCF, we expect to improve reliability, lower aircraft operating costs, and provide a better environmental footprint." (AAG) will receive 4 737-800BCFs within the next 11 months. Once delivered, (AAG) will operate 23 Boeing 737 cargo variants. "This freighter type is an important complement to our portfolio as we support our customers across expanding air cargo markets," (GECAS) Senior VP & Manager Cargo Aircraft Group Richard Greener said as the airplane was handed over at East Midlands Airport, UK.
Boeing's Current Market Outlook forecasts that over the next 20 years, customers will need more than 1,100 standard-body converted freighters. "The 737-800BCF brings customers the next generation of freighters," Boeing Global Services VP Commercial Services Mike Fleming said. "For the 1st time, operators get one-stop shop support throughout the lifecycle of a standard-body freighter (originally manufactured by Boeing, converted by Boeing and supported by Boeing." The 737-800BCF carries up to 23.9 tonnes/52,800 lbs and has a range of 2,000nm/3,750 km. It will primarily be used to carry express cargo on domestic and short-haul routes. 12 pallet positions provide 4,993 cubic ft/141.4 cu m of cargo space on the main deck of the 737-800BCF. This will be supplemented by 2 lower-lobe compartments, combined providing more than 1,540 cu ft/43.7 cu m of space for further cargo.
Existing passenger versions will be modified at facilities located near conversion demand, including Boeing Shanghai Aviation Services and Taikoo (Shandong) Aircraft Engineering (also known as (STAECO)), in China. Modifications include installing a large main-deck cargo door, a cargo-handling system and accommodation for up to 4 non-flying crew members or passengers. Boeing (TBC) has received 45 orders and commitments from 7 customers for the 737-800BCF, including (YTO) Airlines (China), China Postal Airlines, (GECAS) (Ireland), Air Algerie (ALG), (LAS) Cargo (Colombia), Cargo Air (Bulgaria) and an unannounced customer.
News Item A-17: "Boeing Plans to Open New Facility in China by Year-End" by Yu Xiaoming, "China Daily" April 26, 2018.
Boeing (TBC) plans to open a new facility in China by the end of this year, to complete some of its 737 jets, financial news website "MarketWatch" reported. Boeing (CEO) Dennis Muilenburg said construction is under way on the new delivery and completion center in Zhoushan, Zhejiang province, and site preparation has been initiated. "We're still driving toward a goal of beginning to have operational capability toward the end of this year," Muilenburg added.
Muilenburg made these remarks at an earning conference call after (TBC) reported strong 2018 1st-quarter results. (TBC) reported a 57% rise for the 1st quarter, while also raising its full-year forecast for earning per share and operating cash flow. In late September, Boeing and the Commercial Aircraft Corporation of China (CCC) signed an agreement and unveiled (TBC)'s 1st overseas completion and delivery center in Zhoushan. The center, which consist of a completion center under a joint venture between Boeing (TBC) and (COMAC), and a delivery center owned by Boeing, will be capable of tasks including cabin installation, painting, flight testing and aircraft maintenance. Boeing will continue assembling 737s at its plant near Seattle, but send some planes to China for completion at the new plant.

__________________________________________________________________
This has been submitted by Peter A Ansdell, retired Boeing Management employee of many years. Peter has offered this for your reading enjoyment by his efforts as the Founder and Managing Director of his website: http://www.7jetset7.com which he tries to keep readers up-to-date on world jet aviation progress, including current jet airline operators, cargo jet operators, worldwide jet airplane manufacturers, industry control bodies, e.g. (IATA) , (FAA), (CAAC) , space exploration advances, prominent parts manufacturers, with a focus on aviation safety, and new developments. Its all our future. Please help to nurture and assist with its advancement.
(206) 361-1536 (home/office – with recorder)
(206) 779-5703 (cell/mobile – no recorder, no texts)
Website: contact Peter for the cost of access to his website (http://www.7jetset7.com).
Email: p.ansdell@comcast.net