(Boeing news snippets, photos, videos submitted monthly by member Peter Ansdell)

__________________________________________________________________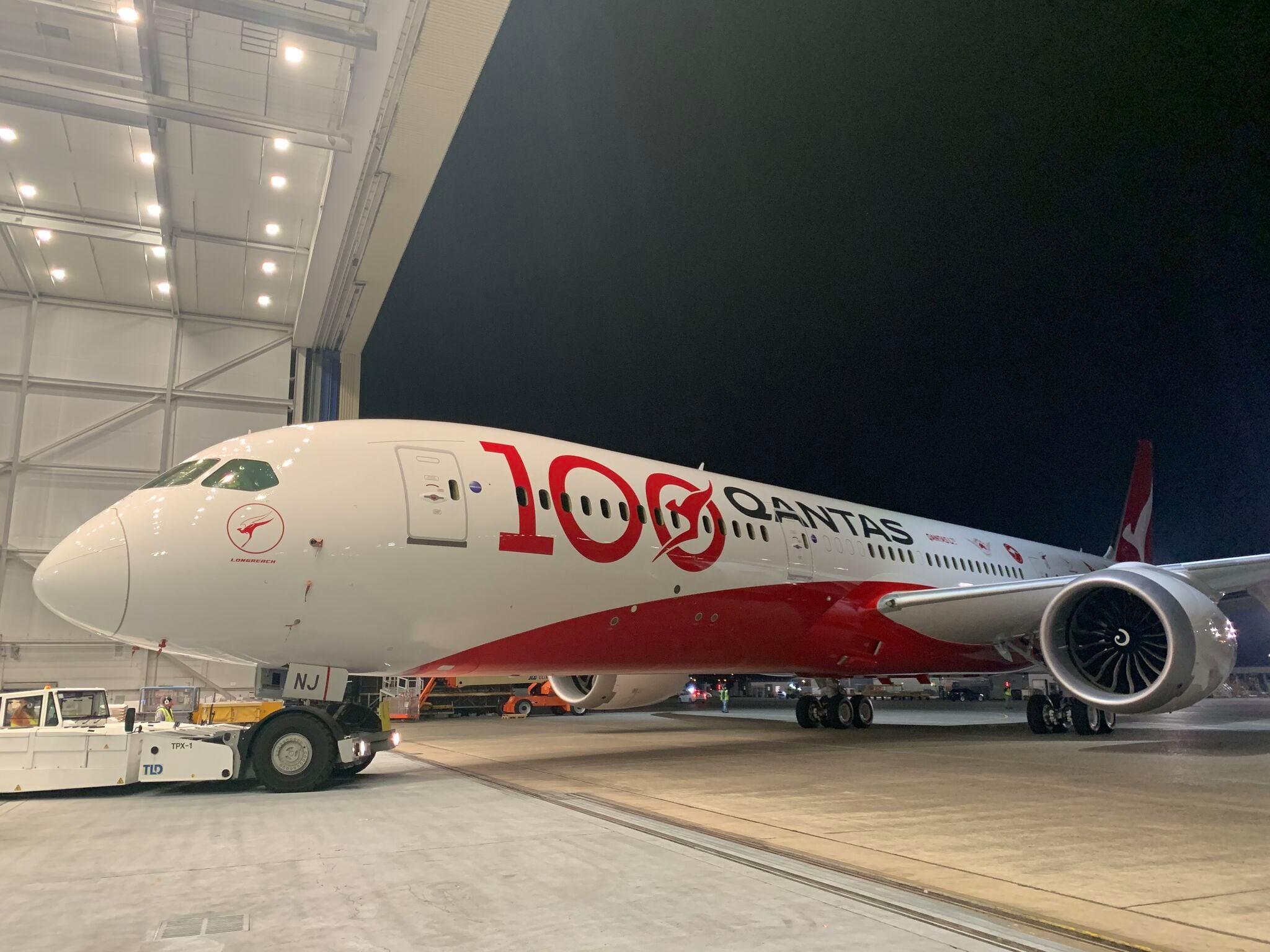 Qantas 787-9 in Centenary Livery Air Tahiti Nui at Auckland

__________________________________________________________________
News Item A-1: "European Commission (EC) Begins Antitrust Investigation of Proposed Boeing/Embraer Joint Venture (JV)"
by Tony Osborne, Aviation Week, October 8, 2019.
The European Commission (EC) will investigate whether the (JV) between Boeing and Embraer could reduce competition in the commercial aerospace business. The (EC) (the executive branch of the European Union (EU)) announced its probe had moved into a formal investigation October 4, stating that the removal of Embraer (EMB) as the 3rd largest global competitor in the commercial aircraft market could lead to "higher prices and less choice" for customers. Boeing (TBC) and (EMB) have already responded to the investigation, telling the markets it now expects the transaction to close in early 2020. The deal had originally expected to close by the end of 2019.
"Markets for commercial airplanes need to function well to deliver innovative and efficient products to customers at a fair price," said Margrethe Vestager, the Commissioner in charge of Competition Policy. "We want to make sure that mergers in commercial airplanes do not significantly reduce effective competition on prices and product development," she said.
The new company, Boeing Brasil – Commercial, in which Boeing (TBC) will hold an 80% share, with Embraer (EMB) holding the remainder, will take on (EMB)'s commercial aircraft business, as well as product development, production, marketing and services. A 2nd (JV), EB Defense, LLC, with (EMB) at the helm, will market the new KC-390 military airlifter. The (EC) said that new potential entrants to the market (such as those from China, Japan and Russia) already face high barriers to entry and are unlikely to be a position to exert the market pressure and competitive constraint such as those currently provided by (EMB) for another 5 to 10 years. The (EC) notes that even though (EMB) has a comparatively small net share in the 100 to 150 seat single-aisle commercial airplanbe market, it brings a "small but important competitive force" to the market. The (EC) is expected to make a decision by February 20, 2020.
News Item A-2: "Boeing's Board of Directors Strips (CEO) Dennis Muilenburg of His Chairmanship" By Dan Catchpole, Fortune, October 11, 2019.
As the 737 MAX crisis grinds on, Boeing decisively signaled on October 11 how seriously it is taking the situation. Boeing's board of directors stripped Boeing (CEO) Dennis Muilenburg of his role as Boeing's Chairman, installing independent Director, David Calhoun in his place. Aerospace analysts for investment companies tell Fortune the move is a potentially positive move (or the 1st step in Muilenburg's ouster from Boeing. The board said splitting the roles allows Muilenburg to focus on running the company, getting the 737 MAX back in the air, and sharpening Boeing's focus on product and service safety. It also shows that the board is taking seriously its oversight role. If it is the 1st step in a break up between Boeing and Muilenburg, the final cut would not come until after the 737 MAX is back in the air. The decision came out hours after a panel of international air safety regulators released a report that criticized the (FAA) for falling short in its review of a safety system installed on the 737 MAX. The report by the Joint Authorities Technical Review also faulted assumptions Boeing made in developing the 4th generation of its popular single-aisle airplane. Calhoun backed Muilenburg in a press release announcing the management shuffle. "The board has full confidence in Dennis as (CEO) and believes this division of labor will enable maximum focus on running the business with the board playing an active oversight role," Boeing's statement said. "The board also plans in the near term to name a new Director with deep safety experience and expertise to serve on the board and its newly established Aerospace Safety Committee."
Muilenburg, 55, took over the company's top position in July 2015, succeeding the controversial Jim McNerney, who earned investors' praise by overseeing a bullish rise in Boeing's stock price. McNerney drew blistering criticism from many Boeing employees and some aerospace analysts for his squeezing union concessions and several development debacles, especially the 787's much delayed and stumbling development. After stepping into the chairmanship in early 2016, Muilenburg moved to heal rifts in the company without substantially turning away from his predecessor's strategy. He implemented structural changes to foster collaboration across the company's revenue divisions: Boeing Commercial Airplanes (BCA); Boeing Defense, Space & Security; and Boeing Global Services. He also created the services division as a pivot in the company's future business strategy and a strategic move into aerospace services. Muilenburg joined the company in 1985 as an engineer, and steadily moved up the ranks, spending time at (BCA) and Boeing Defense.
* The Boeing Company's board of directors and top executives from its airplanes division and supply chain were due to meet on Sunday in San Antonio, Texas, 2 days after the USA planemaker was plunged into a fresh crisis over its banned 737 MAX jet.
News Item A-3: "Boeing Removes Commercial Airplanes Chief Executive Officer (CEO) Kevin McAllister Amid 737 MAX Fallout" by Sean Broderick (ATW) Plus, October 22, 2019.
In the most visible personnel move yet during the 737 MAX crisis, Boeing named longtime executive Stan Deal to take over its Boeing Commercial Airplanes (BCA) unit, removing Kevin McAllister and turning the reins of Boeing's largest business over to a seasoned leader with significant supply-chain and customer-support experience. The move, announced on October 22 is effective immediately.
New Item A-4: "Final report: Lion Air 737 MAX Crash Caused by Combination of Failures" by (ATA) Chen Chuanren, Purple Light Visuals, October 25, 2019.
Indonesian investigators have concluded that a series of factors, primarily the design of the Boeing (TBC) 737 MAX 8's flight control system and inadequacies in pilot training and maintenance practices, combined to cause the crash of Lion Air (MLI) flight 610 a year ago.
A report by the Indonesian National Transportation Safety Committee (KNKT) cited the maneuvering characteristics augmentation system (MCAS) flight-control law's reliance on a single angle-of-attack (AOA) sensor as a redundancy weakness. They also said the "absence of guidance on (MCAS) or more detailed use of trim in the flight manuals and in-flight crew training, made it more difficult for flight crews to properly respond to uncommanded (MCAS)." In the cockpit, the (AOA) disagree alert was not enabled because of a software-configuration error, and (TBC did not tell operators about the problem until after the October 29, 2018, crash. (KNKT) said when (MCAS) pushed the 737 MAX nose down, it required 103 pounds of force by the Captain (FC) to counter the automated system. The First Officer also failed to follow the Quick Reference Handbook instructions that could have deactivated (MCAS). The pilots were overwhelmed by repetitive (MCAS) activations, multiple alerts, air traffic control communications, and ineffective workload and crew resource management, compounded by the "difficulty of the situation and deficiencies in manual handling," (KTKT) said. After the captain successfully countered the airplane's nose-down movements more than 20 times using manual electric trim inputs on the control column, he handed control to the First Officer without properly briefing him. The First Officer was seemingly under stress, did not sufficiently counter another (MCAS) activation and quickly lost control of the airplane, investigators said.
The report also revealed that the First Officer was not initially scheduled for the flight and was called in at 4 am. In addition, the Captain had the flu, he told the First Officer, according to the cockpit voice recorder (CVR). The First Officer's training record also revealed numerous deficiencies, including "difficulties to control airplane during manual flight" on a 2016 instrument-based landing system (ILS) approach proficiency check, and during a 2017 exercise demonstrated a lack of understanding of the basic principles of high- or low-level stall recovery. Following a series of problems during 4 earlier flights, Lion Air (MLI) replaced the (AOA) sensor on October 28 with a used serviceable part. But the sensor was "was most likely improperly calibrated" by supplier Xtra Aerospace, and the issue went undiscovered by a (MLI) Maintenance crew member, (MT) investigators said. Maintenance records did not show that the crew member performed installation and calibration tests after his work, the report said, adding that 31 pages of the October logbook was missing.
The (FAA) said October 25 it had revoked the repair station certificate of Florida-based Xtra Aerospace. The (FAA) said the company "failed to comply with requirements to repair only aircraft parts on its list of parts acceptable to the (FAA) that it was capable of repairing. The company also failed to comply with procedures in its Repair Station Manual for implementing a capability list in accordance with the (FAA) regulations." A flight of the (MLI) airplane the day before the crash had a familiar occurrence of uncommanded (MCAS) activation pushing the airplane nose-down and the stick-shaker activated. The issue was resolved by a 3rd pilot (FC) in the cockpit who identified the problem as a runaway stabilizer and recommended toggling the stabilizer trim cutout switches, which de-powered the stabilizer trim motor. The (FC) continued the flight and only reported airspeed and altitude warnings, however, not the stick-shaker and how the issue was resolved. "The flight crew decision to continue with stick shaker active is not common in comparison to previous events of erroneous stick shaker. When combined with the runaway stabilizer situation recognized by the (FC), the decision to continue was highly unusual," the report says.
(KNKT) said the earlier faults should have been classified as serious incidents, and the airplane should have been grounded until they were resolved. It added that during the 737 MAX design and certification phase, incorrect assumptions were made about (FC)'s responses to malfunctions, and an incomplete review was made of associated multiple flight deck effects, although the process is consistent with current industry guidelines. Among (KNKT)'s recommendations to (TBC) are to review a fail-safe redesign of the (MCAS) system. (TBC) should also consider the effects of all possible flight deck alerts and indications on (FC) recognition and responses, provide sufficient training and manual information on (MCAS), and include a larger tolerance in designs to allow operation by a diverse population of (FC).
In response to the report, (TBC) is addressing the (KNKT)'s safety recommendations and its engineers have been working with the USA (FAA) and other regulators to make software updates and other changes. (TBC) said (MCAS) will now compare information from both (AOA) sensors before activating and will only be activated if both sensors agree. In addition, (MCAS) "will only activate once in response to erroneous (AOA), and will always be subject to a maximum limit that can be overridden with the control column."
The (FAA) said it "[welcomes] the recommendations from this report and will carefully consider these and all other recommendations as we continue our review of the proposed changes to the Boeing 737 MAX."
News Item A-5: "Boeing Engineer Raised (MCAS) Concerns in 2015" by (ATA) Ben Goldstein, (ATW) Plus, October 30, 2019.
A Boeing engineer raised concerns about the reliance of a critical 737 MAX flight control system on a single point of failure as early as December 2015, internal documents shared during a USA House committee hearing show (see photo – TBC-2019-10 CEO Day 2 DC Hearing .jpg). Transportation Committee Chairman Peter DeFazio (Democrat – Oregon) presented a slide during the October 30 hearing featuring an internal email message from an anonymous employee at Boeing's Aero-Stability and Control Group.
News Item A-6: "1st Compliant (GE9X) Engine Delivers to Boeing (TBC) by General Electric (GE) for 777X."

The 1st compliant (GE9X) engine has been delivered to Boeing (TBC) marking the restart of preparations for the 777-9 flight tests. It is understood that (TBC) engineers plan to install the engines on the first test airplane (WH001) with the intent of powering up the airplane by around mid-November. The news is a rare bright spot for (TBC) (no doubt going unnoticed amid the recent crises) as it sets the clock ticking again towards the start of the long-delayed flight tests of the 777-9. The engine is believed to have arrived at the Everett facility by an Antonov An-124F freighter on October 18, which incorporated improvements to fix durability problems that were unearthed late in the test program this summer. The issue centered on the stator vanes in the compressor.
News Item A-7: Here (see photo at top of page) is the 100th anniversary Qantas (QAN) Boeing 787-9 Dreamliner. Registered as (VH-ZNJ), it's also given the name "Longreach" (a nod to the rural Queensland town that was integral to (QAN), the national carrier's beginnings 100 years ago, its role in conquering the tyranny of distance and the "Longreach" series of retiring 747-400 jumbo jets).
(QAN)'s newest 787 Dreamliner has rolled out of the paint shop at Boeing's Everett factory in Washington State today, wearing a special "Centenary" livery to celebrate (QAN) (the flying kangaroo)'s 100th year in the skies. (QAN) will turn 99 in November, and as it enters its 100th year of operations, (QAN) is embarking on a range of initiatives to celebrate the "Spirit of Australia." The special livery features each (QAN) logo since its 1920 founding in outback Queensland through to today, along with the newly unveiled 'Qantas100' imprint that will run across its Centenary celebrations. The 787 ((QAN)'s 10th Dreamliner) will undergo a series of delivery test flights in Seattle prior to its handover from Boeing next month. It will operate the 2nd of (QAN)'s "Project Sunrise" research flights, flying non-stop from London to Sydney and replicating the journey of the 1st 747-400 delivery, 30 years ago. It will then enter normal commercial service with Qantas International.
(QAN) (CEO) Alan Joyce said, "the 787 livery is a reminder of (QAN)'s past on its newest piece of technology. The story of (QAN) is the story of modern Australia, and the logos on this livery tell that story from the beginning," Mr. Joyce said, "our Centenary celebrations are all about honoring our past with an eye on the future, so it's very fitting that this special livery will be worn by our newest state-of-the-art 787 Dreamliner." Over the past century, Queensland and Northern Territory Aerial Services has evolved from delivering the mail in the outback to serving as the national carrier (from 2 passengers at a time to 50 million a year. Mr. Joyce said "(QAN) began by assembling its own airplanes and now flies non-stop from Australia to Europe, having established an unrivalled reputation for safety in the process."
"We have a lot of exciting things planned to mark the Centenary, so watch this space," he said.
News Item A-8: "Air Tahiti Nui Sees Benefits from Fleet Transition to 787-9s" by (ATA) Adrian Schofield, October 22, 2019.
Air Tahiti Nui (NUI) has completed the transition of its wide body fleet from Airbus A340s to Boeing 787-9s, and the carrier anticipates significant operational benefits from the switch. (NUI) recently took delivery of the last of 4 787s, which replaced its 5 A340s. (See photo at top of page) The transition was achieved in 11 months, (NUI) General Manager Pacific, Daniel Eggenberger, reported at the October 16 to 17 CAPA) Center for Aviation conference in Auckland, New Zealand. The fleet replacement was "a major milestone in (NUI)'s history," Eggenberger said. He noted the selection of a Boeing airplane was a significant development, as Tahiti is a French territory and there was political pressure from France to select an Airbus. "The 787s will produce fuel savings of 23% compared to the A340s", Eggenberger said. Because the 787 is "so much more effective and efficient," (NUI) has been able to cut its flight from Auckland to Papeete, Tahiti, by more than 40 minutes to around 4 hour 32 minutes. (NUI) has updated its cabin product with the new airplanes and added a premium economy (PY) section to give it 3 classes.
(NUI)'s major international routes are to Auckland, Tokyo and Los Angeles, with a Paris flight via Los Angeles. "Connecting traffic (mainly between Auckland and Los Angeles) makes up a 'minor percentage' of revenue, but (NUI) is attempting to increase connecting flow," Eggenberger said. However, he noted it is primarily "a destination carrier rather than a network carrier." (NUI) currently does not serve Australia directly, instead connecting to code share flights via Auckland. Eggenberger said "direct flights to Australia are among the growth options (NUI) is considering, although it also has other ideas on its "wish list." (NUI) already has partnerships with airlines such as Qantas (QAN), American Airlines (AAL) and Air New Zealand (ANZ). (NUI) is examining whether to join one of the global alliances, which would allow more seamless travel to Tahiti." "One of the major challenges facing (NUI) has been a shortage of hotel rooms in Tahiti. (NUI)'s growth is effectively limited by the accommodations available for visitors", Eggenberger said. "However, the development of the short-term rental market through services like Airbnb over the past few years is helping boost accommodations," he said. This trend is making Tahiti a more attractive proposition for budget-conscious travels and those wanting to immerse themselves in Tahitian culture rather than staying in a resort.

__________________________________________________________________
This has been submitted by Peter A Ansdell, retired Boeing Management employee of many years. Peter has offered this for your reading enjoyment by his efforts as the Founder and Managing Director of his website: http://www.7jetset7.com which he tries to keep readers up-to-date on world jet aviation progress, including current jet airline operators, cargo jet operators, worldwide jet airplane manufacturers, industry control bodies, e.g. (IATA) , (FAA), (CAAC) , space exploration advances, prominent parts manufacturers, with a focus on aviation safety, and new developments. Its all our future. Please help to nurture and assist with its advancement.

(206) 361-1536 (home/office – with recorder)
(206) 779-5703 (cell/mobile – no recorder, no texts)
Website: contact Peter for the cost of access to his website (http://www.7jetset7.com).
Email: p.ansdell@comcast.net