(Boeing news snippets, photos, videos submitted monthly by member Peter Ansdell)

__________________________________________________________________
News Item A-1: Boeing (TBC) reported deliveries of 806 commercial airplanes in 2018, exceeding its previous record-high delivery total of 763 in 2017, and surpassing rival Airbus (EDS)'s 800 commercial jet deliveries for the past year. (TBC) delivered 89 commercial airplanes to airlines and lessors in December, including 51 737 MAX family airplanes, 12 737-800s, 4 737-900ERs, 1 767-300F freighter, 4 777F freighters, and 17 twin-aisle 787s.
The biggest delivery customers for the month all took delivery of single-aisle 737 MAX models, with Southwest Airlines (SWA) and SpiceJet (ROJ) each receiving 5 airplanes and American Airlines (AAL) and lessor (GE) Capital Aviation Services (GECAS) (GEF) receiving 4. (TBC) reported a total of 893 net orders for 2018, 203 of which were firmed in December. (EDS)'s net orders for 2018 as of November 30 totaled 375 airplanes; (TBC) is expected to release its accumulated full-year 2018 order details imminently. "In a dynamic year, our production discipline and our supplier partners helped us build and deliver more airplanes than ever before to satisfy the strong demand for air travel across the globe," Boeing Commercial Airplanes (BCA) President & (CEO) Kevin McAllister said. (BCA) increased 737 production in mid-2018 to 52 airplanes per month, reflecting a 7-year order backlog. Nearly half of 2018's 737 deliveries were 737 MAXs, including the 1st MAX 9s,. (BCA) also boosted production of its 787s, delivering 145 of the twin-aisle airplanes by year-end.
(BCA)'s 893 net orders for the year came to $143.7 billion in sales, at current list prices. (BCA) noted particularly strong sales for its twin-aisle airplanes, with 218 orders placed during the year, including 109 787s and 51 777s. (BCA)'s 737s racked up 675 net orders over the year. "Another year of healthy jet orders continues to support our long-term forecast for robust global demand that will see the commercial airplane fleet double in 20 years," Boeing Senior VP Commercial Sales & Marketing Ihssane Mounir said.
News Item A-2: Herb Kelleher, Southwest Airlines (SWA) Founder & Executive Chairman passed away peacefully on January 3rd, 2019.
From its inception, (SWA) was never going to be "just another airline." The business model that Rollin King and Herb Kelleher drew up, was clean-sheet innovative. Kelleher, who died at age 87, was not interested in the "glamor" that persuaded so many people to want to start an airline. Quite the opposite, he wanted to create a business that would be consistently profitable. And that definitely was not typical in the airline industry of the 1970s.
(SWA)'s premise was to keep it simple so that costs were to be the lowest they could be, enabling fares that would attract the most customers, including many people who had never been able to afford to fly. No onboard food (that only added weight and cost). No seat assignments (speeding up the gate turnaround times). Until new post-"9/11" security rules came into place, (SWA) did not even issue boarding passes. Tickets were exchanged at each gate for reusable, numbered plastic cards that determined boarding priority.
The commercial magic in this transformational model was not that it proved highly profitable, however. It's that it was embraced, even loved, by its customers. Even today, some 10 years after Kelleher retired, (SWA) is popular with its passengers. (SWA) has spawned many (LCC)'s and ultra-(LCC)'s worldwide; some of them are also making money. But none enjoys (SWA)'s consistently good business – customer relationship. For that matter, there are few legacy carriers that have maintained high customer regard. A "Which" survey released in early January of how passengers ranked airlines that operate out of the UK, placed (LCC) Ryanair (RYR) the least-liked short-haul airline for the 6th year running. British Airways (BAB) didn't rate much better.
News Item A-3: "Brazil Government Reviews Terms of Boeing – Embraer Deal" by (ATW) Staff, January 7, 2019.
Brazil's new Administration said it supports the proposed Boeing – Embraer tie-up, but is signaling that the tentative terms may have to change before the government gives its required blessing. Government officials continue to review the deal, in part to ensure it is "the best possible for the country," Reuters reported. The remarks come on the heels of Brazil President Jair Bolsonaro's January 4 comments that expressed concern over a provision that could see (TBC) own 100% of (EMB)'s commercial operations. The tentative deal's structure would see (TBC) own 80% of a joint venture (JV) that includes (EMB)'s commercial aircraft production business. The agreement includes a provision that would allow (EMB) to sell the remaining 20% to (TBC) in the future.
(TBC) and (EMB) appear to have taken steps to help ease concerns that the $4.2 billion deal is too favorable for the USA company. For instance, the venture's management will be based in Brazil and will be led by a President & (CEO) who will report to (TBC) (CEO) Dennis Muilenburg. Approval of the (JV) is not expected until mid-2019 at the earliest.
Credit analysts say (TBC)'s purchase of most of (EMB)'s commercial aircraft business (and rights to sell military KC-390s) may be a boon to (TBC), but (EMB) will be left with a weaker profile for the near future. "If the transaction is completed as proposed, (EMB)'s business will be narrowed to its executive jet and defense units, which have lower margins and higher volatility than the commercial aviation division."
News Item A-4: UK Aero-engine manufacturer Rolls-Royce (RRC) said it has certified a redesigned intermediate pressure (IP) compressor blade for Package C variants of the (Trent 1000) engine that powers the (TBC) 787. Both the (FAA) and (EASA) have certified the redesigned blade and bulletins were issued to 787 operators by (RRC) and (TBC). (RRC) announced January 10.
News Item A-5: (TBC) flew the initial high-density seating minor-model derivative of the 737 MAX 8 for the 1st time on January 13. The airplane is modified with an additional set of mid-fuselage passenger exit doors to seat up to 200 and becomes the 4th variant of the 737 MAX family to fly, after the 737 MAX 7, 737 MAX 8 and 737 MAX 9. For its 1st flight the 737 was flown to Paine Field and Moses Lake in Washington before returning to Boeing Field more than 2 hours later.
News Item A-6: "Alaska Air Earnings Plunge Without 2017's Tax-cut Boost, but (CEO) Declares a 'Turning Point'" by Dominic Gates, January 24, 2019.
(ASA) profits dropped sharply compared to a year earlier. But revenue was up higher than costs, excluding fuel, and (CEO) Brad Tilden increased the quarterly dividend to shareholders and said employees will share $120 million in annual performance bonuses. About 21,800 employees nationwide at (ASA) and Horizon Air will share a total of $120 million in annual performance bonuses in their next paychecks, an average payout of approximately $5,500, (ASA) said as it reported 2018 earnings. Employees in Washington state will get $66 million of that total. And shareholders will get a 9% increase in their quarterly dividend, now at 35 cents per share. Brad Tilden hailed the quarter's results as a "turning point" in the company's financial fortunes at the end of a difficult year. This was despite the fact that net profits were drastically down compared to a year earlier, when earnings were artificially boosted by the big federal tax cut. His optimism was based on (ASA)'s 4th-quarter revenue rising 6%, the fastest rate since 2011 and significantly higher than the increase in costs, excluding fuel. "Last year, we faced multiple headwinds from aggressive competition, our own growth, new higher-cost labor agreements and rising fuel prices. Today, that picture looks very different. Our growth slowed. Newer parts of our network are maturing." He said fuel prices have moderated and passenger demand is solid. And he said the burden of integrating the employees and airplanes (ASA) absorbed 2 years ago, when it acquired Virgin America (VUS) is now 95% complete. Reservations and ticketing are already a single system. Tilden said the 2 separate cabin crews begin operating as a single unit, and management is now working to integrate separate pilot (FC) schedules. (ASA) has repainted 39 of 71 Airbus (EDS) aircraft and will soon repaint the remainder of the (VUS) fleet. "We're rapidly becoming a better version of ourselves with greater reach and scale. We have good momentum heading into 2019." In the 2 key metrics by which financial analysts assess airline performance, (ASA)'s revenue per passenger per mile carried was up 5.2% in the 4th quarter compared to the previous year, while cost per passenger per mile carried was up 10.6%. Excluding fuel and merger-related costs from that last metric (which is how financial analysts make projections for the future) (ASA)'s cost per passenger per mile carried rose just 3.1%. Net profit for the 4th quarter was just $23 million or 19 cents per diluted share, compared with $315 million or $2.55 per diluted share a year earlier.
However, 2018's results were inflated by a $237 million benefit from the USA President Trump tax cut, and the 4th quarter included a 1-time write-off of $20 million for terminating an engine-maintenance contract inherited from (VUS) on the (EDS) airplanes. Adjusting for those 2 1-time numbers, the real comparison would be a 4th-quarter profit of $43 million versus $78 million a year earlier. The biggest driver of the decline is the price of fuel. Fuel was up 35 cents per gallon year-over-year on 208 million gallons (that's a $73 million hit to (ASA)'s fuel expense in the quarter. Excluding onetime costs including merger costs and fuel-hedging costs and last year's tax benefit, (ASA) said its adjusted net income was $93 million or 75 cents per share, which beat the First Call Wall Street analyst consensus projection of 71 cents per share. (ASA)'s fleet grew significantly in 2018, when it added 8 737s, 4 A321s and 25 (EMB) E175s (the regional jets flown by Horizon) a total increase in seat capacity of 5.3%. Management has decided to slow growth in the year ahead, projecting just a 2% capacity increase, which will restrain 2019 costs. And recently introduced changes should boost revenue. Last month, (ASA) raised the cost of checking 1 bag to $30. This month, it has fully implemented across its network new "Saver" fares (cheaper tickets with restrictions such as no seat assignment until check-in). Ahead of the results, (ASA)'s stock closed Thursday up $2.07, or 3.3% at $65.78. After the results posted, shares fell back in after-hours trading more than $2 to $63.75, all but canceling out the day's gains. A previous version of this story posted online used a different figure for the Trump tax boost to (ASA)'s earnings in 2017. A new accounting standard introduced during the year revised the 2017 quarter's net profit and tax benefit.
News Item A-7: "777-X 1st Flight February 2019" by Dominic Gates, Seattle Times Aerospace Reporter, January 25, 2019.
While most airplanes look much the same to harried air travelers, early next year (BCA)'s newest jet may manage to catch and arrest even the casual eye. Passengers about to board will see its long, long carbon-fiber wings arc up and away from low on the fuselage, gull-like, then curve downward to the tips. There, the wings will end in what will surely be the iconic image of this plane: scythe-like wingtips painted with a 777-X and folded upward so the jet fits at the airport gate. Hanging from the wings will be the most gigantic jet engines anyone has ever seen. Behind the big doors of (BCA)'s Everett assembly plant, Jason Clark, VP Operations 777, gestured toward the all-but-complete 777-X flight-test plane, the 1st of its 2 engines newly hung on the left wing, the tips folded up so as not to hit the factory walls. "That's the 1st airplane we'll take into the sky," said Clark. "In the next few weeks, we'll be bringing the 777-X to life." Engineers and mechanics are preparing to roll out this majestic jet for its public debut as early as February. It'll fly for the 1st time, a month or 2 later. Clark gave The Seattle Times an advance look. This 1st plane, a 777-9X model, is 252 feet long. When those 11-footlong tips are unfolded for flight, it has a wingspan of 235 feet. That makes it longer and with a larger wingspan than the latest 747 jumbo jet. Already, the power is on. Its giant airframe is complete. The primary systems are installed.
The biggest jet engines ever seen are now hanging from the longest wings on any (BCA) plane. Ahead of the new 777-X jet's rollout, (BCA) offered a 1st look at its jaw-dropping (GE-9X) engines inside its Everett assembly plant. The engine, featuring a huge front fan with 16 carbon composite blades, each twisted into a thin, aerodynamically curved shape, is encased in a carbon composite pod, or nacelle, that gives it a diameter of 184 inches at the widest point.
The fuselage of a single-aisle (BCA) 737 that you might fly on a typical domestic flight would fit comfortably within those outer nacelle dimensions. The engine is the product of an investment of >$2 billion by General Electric (GEC). It was assembled in Durham, North Carolina, and Peebles, Ohio, from parts built all over the USA, Europe and Japan. The (GE-9X) is an evolution of the (GE-90) engine, of which more than 2,600 have been delivered. That engine has exclusively powered (BCA)'s 777-300ER since it entered service with British Airways (BAB) in November 1995. With a maximum engine pod diameter of 166 inches, the (GE-90) was previously the world's biggest jet engine but is now overshadowed by this gigantic (GE-9X) variant. Because of the extra aerodynamic efficiency of the immense 777-X wing, the new engine doesn't have to be quite as powerful as the current one, delivering 105,000 pounds of thrust compared to the 115,000 pounds from the (GE-90). So the (GE-9X) is projected to burn 10% less jet fuel than the current engine. (GE) tested the -9X engine in flight for the 1st time in March 2018, when a test model was mounted to a specially designed pylon on a 747 jumbo jet, replacing 1 of that test plane's 4 much-smaller engines. This spring, the engines will boost the 777-X into the sky on its maiden flight, commencing about a year of extensive flight tests.
News Item A-8: "Boeing Unveils Flexible 777-X Cabin Design" by Guy Norris , January 28, 2019.
Amid preparations for the rollout and 1st flight of the 777-9, (BCA) has unveiled the 1st details of the all-new interior design for the 777-X, which is scheduled to enter service in 2020. Building on what (BCA) said is the "best of the 777 and 787" (BAC) has developed a broad range of interior lining options for the 1st, business (C), premium economy (PY) and coach (Y) class cabins which take advantage of the 777-X's wider internal cross-section, revised 787-like interior support structure and larger cabin windows. "Historically a cabin is basically the same when it comes to the lining package. But we listened to our customers who expressed their desire for flexibility," said Kent Craver, (BCA)'s Regional Director Cabin Experience & Revenue Analysis. "We have been able to create a suite of options for airlines to customize 4 different cabins on the same airplane without the typical headaches." By sculpting the fuselage frames, (BCA) has enlarged the 777-X internal cabin width from 231 in./19.2 ft on the current 777 to 235 in/19.6 ft. The additional real estate has enabled new configurations with 7 across business class seating that (BCA) said will offer comparable space and comfort to the 6-abreast configurations in service today. Revised stowage bins with greater capacity and slightly concave outer profiles will enable storage space for each passenger to stow a carry-on bag. (BCA) has also increased the size of the 777-X cabin windows by 16%. The window line is also higher on the fuselage side and tops out 2.6 in above the windows on the current airplane. "It's a significantly different approach, especially around the ceiling. We have different options which will allow the airlines to create different aspects of the spaciousness through a combination of physical architecture and lighting."
The new twin jet family, which is due to enter service in 2020, also includes optional ceiling configurations. (BCA) currently offers a premium ceiling with no center overhead bins but "with the 777-X, we have 2 primary ceilings and we have designed the ability to have 1 ceiling in 1 part of the airplane and another ceiling in a different part and be able to transition seamlessly from 1 to the other."
News Item A-9: At Paine Field in Everett, Washington, USA, the Air Force (USF) formally took delivery of its 1st Boeing KC-46 air-to-air refueling tanker in January 2019. Boeing (TBC) leadership from Chicago and (USAF) top brass attended the ceremony.
News Item A-10: "Boeing Receives $2.4 Billion P-8A Poseidon Contract From US Navy" by AVIATIONNEWS.EU, Marcel Van Leeuwen, January 28, 2019.
US Navy orders next group of P-8A airplanes; 19 jets support world-wide customers. The US Navy has given (TBC) a $2.4 billion production contract for the next P-8A Poseidons. The contract includes 10 airplanes to add to the current inventory of P-8As in the US Navy fleet, with all 5 jets currently under contract for Norway and the 4 airplanes remaining, for the existing UK contract, bringing the total UK acquisition to 9 airplanes. The UK and Norway are acquiring the (TBC) airplanes through the Foreign Military Sales process and will receive a variant designed and produced for the US Navy called the P-8A Poseidon. The UK will receive their 1st airplane in 2019 and Norway will begin receiving their airplanes in 2021. The P-8 is a long-range multi-mission maritime patrol airplane capable of covering a broad-area, maritime and littoral operations. A military derivative of the Boeing Commercial Next-Generation 737 airplane, the P-8 combines superior performance and reliability with an advanced mission system that ensures maximum interoperability in the battle area.
The P-8 is militarized with maritime weapons, including a modern open mission system architecture, and commercial-like support for affordability. The airplane has been modified to include a bomb bay and pylons for weapons (2 weapons stationed on each wing) to carry 129 sonobuoys. The P-8 is also fitted with an in-flight refueling system. With more than 180,000 flight hours, P-8 variants, the P-8A Poseidon and the P-8I patrol the globe performing anti-submarine and anti-surface warfare intelligence, surveillance and reconnaissance, humanitarian, plus search and rescue missions.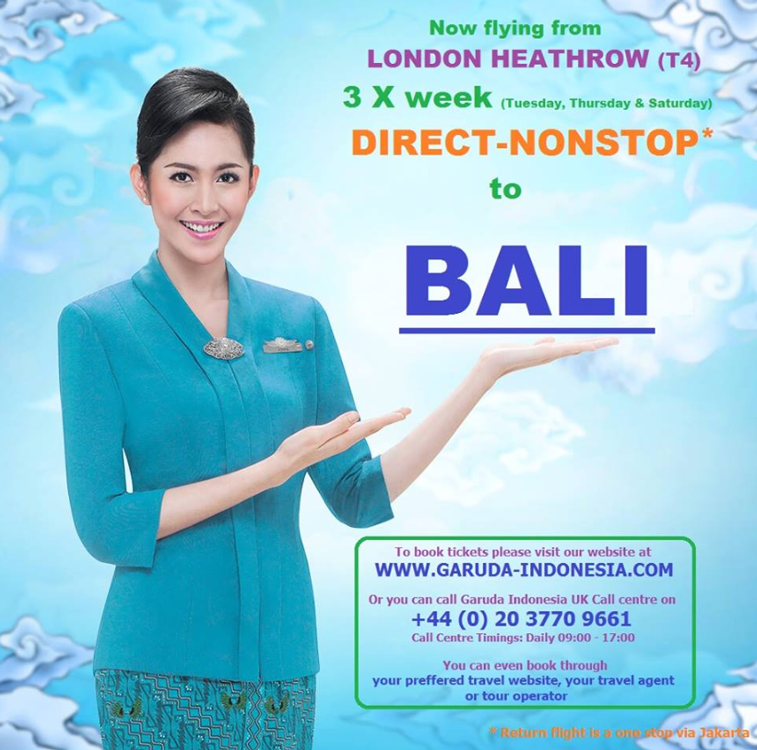 News Item A-11: Garuda Indonesia (GIA) launched non-stop flights between London and Bali on January 22, 2019 with (GIA) offering flights between London Heathrow (LHR) and Denpasar (DPS). (GIA) will operate 3x-weekly on the 12,519 km sector using its fleet of 777-300s, with departures from the UK taking place every Tuesday, Thursday and Saturday. It should be noted that while the route from the UK to Bali will operate non-stop on outbound legs, return services will be performed via Jakarta, with (GIA) already offering flights between the Indonesian and UK capitals. Just less than 153,000 passengers traveled indirectly between (LHR) and Denpasar during the 12-month period from July 2017 to June 2018, via a 1-stop flight offering. A further look at the data shows that Denpasar was one of the top unserved markets from (LHR) regarding indirect traffic flows within the time frame analyzed, with the top airlines for passengers on the airport pair being (GIA) itself, via its existing Jakarta service (19% of the market), followed by Qatar Airways (QTA) (18%) and Singapore Airlines (SIA) (14%).
News Item A-12: "New 787 Fleet Transforms Air Tahiti Nui's Operations" by Karen Walker, (ATW) Plus Editor, January 24, 2019.
With a transition to 787s, Air Tahiti Nui (NUI) is transforming itself in the exclusive French Polynesian market. Incorporating a new airplane type into a fleet is always a major step for an airline, but it's difficult to think of a comparison with (NUI)'s wide body fleet switch in terms of game-changing significance. In October, (NUI) took delivery of the 1st of 4 Boeing 787-9s. A 2nd 787 Dreamliner was scheduled for delivery in January, 2019, to be followed by a 3rd in May and the 4th in August, 2019.
News Item A-13: Air New Zealand New Safety Video a Smash Hit, by Airliner World 2019-01.
Air New Zealand's latest safety video ("It's Kiwi Safety") has got passengers tapping their feet all around the world, reaching a staggering 20 million views on social media since its launch. Filmed in the style of a music video, "It's Kiwi (a remake of the RUN-DMC song "It's Tricky) features some clever New Zealand themed lyrics.
The video also stars well-known Kiwi actor Julian Dennison (most recently in Deadpool 2) and talent from 30 community groups from across the country (making it the largest safety video produced in (ANZ)'s history.
Jodi Williams, (ANZ)'s General Manager Global Brand & Content Marketing is delighted the safety video has been so well received. "We've had terrific feedback from people right across the world. People seem to be its New Zealand-ness, the diversity it offers, as well as the catchy soundtrack." The video can be viewed on (ANZ)'s social media channels.
News Item A-14: Boeing Unveils 777-X BBJ Business Jet.
Boeing has formally launched a new business jet variant of its forthcoming 777-X. The 777-X BBJ will be available in the baseline -8 or stretched -9 variant, with the ability to fly 11,645 nm/21,570 km and 11,000 nm/20,270 km, respectively, are Boeing's longest range corporate offerings to date. The 777-X BBJ becomes Boeing's 3rd wide body offering after the 787 and the 747-8.
Greg Laxton, Head of Boeing Business Jets said the 777-X BBJ "will redefine ultra-long range (VIP) travel." Boeing Business Jets has secured 260 orders since its launch in 1996 and delivered 234 airplanes. This includes the 1st of 21 737 MAX BBJs in October 2018.
News Item A-15: "In 2018, Boeing (TBC) added almost 4,000 jobs in Washington state and nearly 9,000 companywide, (TBC)'s 1st employment increase in 6 years" by Dominic Gates, Seattle Times, January 31, 2019.
Those numbers represent the net gains after retirements and other departures. All told, (TBC) hired 8,500 workers last year in Washington state, and made about 34,000 hires company wide. The data shows Boeing has 69,813 employees in the state, up 3,984 from a year ago. Boeing has 150,227 employees, up 8,905 from a year ago. About 2,000 of those additional employees joined the payroll in October when Boeing completed the acquisition of Miami-based airplane-parts distributor KLX Aerospace.
This uptick follows 5 straight years of employment declines. In Washington state, (TBC) shed more than 6,000 jobs in 2017 and more than 7,300 in 2016.
Employment peaked most recently in the fall of 2012, when (TBC) had 87,023 employees in Washington state. Even with the 2018 gain, (TBC) employs about 17,200 fewer people in the state than it did then. Companywide, the pattern is similar, though the majority of the job losses over the past 5five years happened in Washington state.
In the fall of 2012, (TBC) employed a total of 175,742 worldwide. Despite the 2018 gain, its total employment is down more than 25,500 from that peak. The employment prospects this year look good. (TBC) plans to significantly increase production of the 737 in Renton and the 787 in Everett. And manufacturing work on the new 777-X in Everett will accelerate as that plane enters flight test ahead of entry into service next year.
And if, as expected, (TBC) announces a go-ahead on a new airplane that will become the 797, that will trigger substantial hiring of engineers over the next few years, with Washington state likely to get the largest jobs boost from that move. However, the impact of the 797 decision on production jobs depends on where (TBC) chooses to build it. It's not certain to be here. And wherever it's assembled, the 797 production line is expected to be the most highly automated in Boeing's history, taking to the next level the automation (TBC) has deployed for the 737 MAX and the 777-X. Because of the company's increased use of automation, its unlikely (TBC) will surpass the 2012 employment peak in the years ahead, except through acquisition of other companies. For example, if (TBC) as expected completes this year the acquisition of the commercial operations of Brazilian jet maker Embraer (EMB), that will likely add at least 10,000 workers to its payroll.
Boeing (TBC) stock leaps as annual revenue surpasses $100 billion for first time.


__________________________________________________________________
This has been submitted by Peter A Ansdell, retired Boeing Management employee of many years. Peter has offered this for your reading enjoyment by his efforts as the Founder and Managing Director of his website: http://www.7jetset7.com which he tries to keep readers up-to-date on world jet aviation progress, including current jet airline operators, cargo jet operators, worldwide jet airplane manufacturers, industry control bodies, e.g. (IATA) , (FAA), (CAAC) , space exploration advances, prominent parts manufacturers, with a focus on aviation safety, and new developments. Its all our future. Please help to nurture and assist with its advancement.

(206) 361-1536 (home/office – with recorder)
(206) 779-5703 (cell/mobile – no recorder, no texts)
Website: contact Peter for the cost of access to his website (http://www.7jetset7.com).
Email: p.ansdell@comcast.net