(Boeing news snippets, photos, videos submitted monthly by member Peter Ansdell)

__________________________________________________________________
News Item A-1:
"Editorial: Recent Deals Reinforce Boeing – Airbus Duopoly" by (ATW) Karen Walker (ATWOnline), July 26, 2018.
If the extent to which the commercial airplane supply landscape has changed was not fully apparent, the then-and-now environment became crystal clear at the Farnborough Air Show. Airbus (EDS) was able to boost its total show orders and commitment tally with a 60-aircraft (MOU) for the newly-named A220. Before (EDS) took a majority stake in what was the Bombardier (BMB) C Series aircraft program, that deal would have been credited to the original Canadian designer and manufacturer. But in July, the freshly-painted A220 sat on the static park outside the Airbus chalet in blue and white livery to match its expanded aircraft family.
Assuming Boeing (TBC) is able to complete its deal, announced just before Farnborough, to take an 80% stake in Embraer (EMB)'s commercial airplane and services business, then by Le Bourget in June 2019, sales of (EMB) E-jets will be included in Boeing (TBC)'s show tally.
The consolidation from 4 to 2 airliner (OEM)'s is not, of course, as drastic as it sounds. (EDS) and (TBC) have long held a duopoly in the narrow body and wide body markets. Nibbling on the outsides of the regional jet markets, (COMAC), Mitsubishi and Sukhoi have established niche customer bases, while ATR has a firm following in turboprop markets. But the newest, larger Bombardier (BMB) and Embraer (EMB) jets were by far the closest challenge to the narrow body markets that are dominated by the A320 and 737 families. Now they will be sold as lower-end extensions to the market, focused on routes best suited for 100- to 150-seat airliners. That's good news for the A220 and the E-Jet E2, which are excellent aircraft, and for the airlines worldwide that can exploit growing demand for high-quality service on regional routes. The Airbus (EDS) and Boeing (TBC) deals help secure the futures of those aircraft and the airlines that can, given the right equipment and cost base, operate them efficiently and competitively in niche markets.
But where Airbus and Boeing must tread carefully is in how they use their newly-reinforced duopoly in terms of long-term maintenance and service agreements. It's no secret that each (OEM), taking a cue from the engine providers, sees its best revenue growth potential in service and support sales. Intense pressure from the airlines and lessors to provide the lowest possible aircraft price, makes the follow-on service agreement sale all the more compelling.
With new-generation aircraft, however, it's all about the data; control access to the data and you control the process, and are best-positioned to profit from its outcome. (EDS) and (TBC) should be wise in wielding such power and ensure a fair price for access to those that will maintain the global (MRO) industry's health and competitiveness (including those airline customers that operate their own aftermarket support businesses. This duopoly should not evolve into a data-opoly).
News Item A-2: "(NASA) Trained and Boeing Employed, Chris Ferguson Hopes to Make History as a Company Astronaut" Seattle Times, August 5, 2018.
One small detail sets Chris Ferguson apart from the (NASA) astronauts he is training alongside. Where they have the space agency's red-white-and-blue logo on their spacesuits, he wears Boeing (TBC)'s corporate insignia as a test pilot of the inaugural flight of its Starliner spacecraft. He still looks every bit the (NASA) astronaut he once was. Same chest-out posture. Same "Top Gun" instincts. Same American flag on the left shoulder of his flight suit. Chris Ferguson even has a call sign, "Fergy." Ferguson retired from (NASA) after serving as the commander of the last space shuttle mission in 2011. Today, he's a corporate astronaut who is hoping to make history as the 1st private citizen to launch to orbit on a commercially operated rocket. (NASA) has been unable to fly people from USA soil since the shuttle was retired. Since then, its astronauts have flown to the space station on Russian rockets from a Soviet-era launch site in Kazakhstan. In 2014, (NASA) awarded contracts worth a combined $6.8 billion to Boeing and SpaceX (SPX) to develop spacecraft that would finally restore human spaceflight from the Florida Space Coast. (NASA), which has wanted to fly ordinary people since the early days of the space shuttle, hopes that by hiring the companies to provide a sort of taxi service to the space station they would also carry all sorts of passengers to orbit.
"We wanted to basically enable a new market," said Phil McAlister, the Director of NASA's commercial spaceflight division. "We wanted these companies to have the ability to sell their services to nongovernmental customers."
That is also SpaceX' (SPX)s goal. "Human spaceflight is the core mission of our company (to help create a future where millions of people are out exploring the stars and living on other planets," Gwynne Shotwell, (SPX)'s President and Chief Operating Officer, said.
News Item A-3: Boeing (TBC) continues to experience 737 production issues as cumulative problems with late and incomplete fuselages, a shortage of skilled mechanics (MT), and the late arrival of (CFM) engines impact deliveries, which are not expected to recover until year-end. Production problems have been brewing all year, but came to a peak in recent weeks at Boeing (TBC)'s Renton, Washington assembly site, where up to 40 unfinished 737s are now standing in open storage.
News Item A-4: "(USA) Senator John McCain" by Karen Walker in (ATW) Editor's Blog, August 27, 2018.
Heroes are born, idols are made, they say. Senator John McCain had no time for idolism, but he was a hero in the truest sense because of his actions and values. Senator McCain died at the weekend. Among the many tributes that have been paid from around the world, American Airlines (AAL) posted a statement on its site in which (AAL) Chairman & (CEO) Doug Parker said "As a former Navy pilot and Chairman of the Senate Commerce Committee, Senator McCain had great respect for the USA commercial aviation industry and the hard-working professionals who serve within it. We are extremely grateful for the work Senator McCain did on behalf of our team members, most notably in the aftermath of "9/11," both for (AAL) and a predecessor airline, America West (AMW). (AAL) would not be what it is today without the principled support of Senator McCain and our 130,000 team members are forever grateful." Parker also noted that the Senator was a friend, and that his son, Doug McCain, is a Captain with American Airlines (AAL).
While his experience as a prisoner of war in Vietnam forever changed and shaped the young John McCain, it was as a USA Senator that his stature was confirmed. As Chairman of the powerful Commerce Committee, which also oversees Transportation, Senator McCain was an imposing presence. He could show irritation, even flashes of temper. He did not suffer fools or the unprepared, and he grilled those giving testimony. But he was always prepared and well informed on the subject at hand. He listened intently to testimonies. He knew the Senate was a theater and he played up to that, but under his leadership, it was a dignified court and all sides were granted a fair hearing. Many of those Commerce Senate hearings were covered in the 1990s. Among the big air transportation issues of the day was whether to grant (AAL) and British Airways (BAB) an immunized alliance. US Airways (USA) (this was well before the merger of (AAL) and (USF)) and Virgin Atlantic (VAA) were among those opposing the alliance. (VAA) had "No Way, (BAB)/(AAL)" painted on the tails of its airplanes. Big industry names ((AAL) (CEO) Bob Crandall, (USA) (CEO) Stephen Wolf, Virgin Founder and boss Sir Richard Branson) knew to be deferential to the Senator as they explained their positions. But (BAB) (CEO) Bob Ayling, perhaps believing a UK citizen was not under the same obligations to give testimony at a USA hearing, failed to show for 1 of the (BAB)/(AAL) hearings. Senator McCain was furious. When Ayling turned up for a following hearing, he was greeted by the Chairman with a pointed "thank you for showing up this time Mr. Ayling." 1-on-1, Senator McCain was gracious and generous. He would give time to reporters after hearings. He was funny. In an interview for "Airline Business," there were no aides or (PR) staff; he just sat in his office and answered all questions fully. He was very knowledgeable not just on the USA airline industry, but also the global airline industry and how it was changing. He was genuinely interested in the industry and seemed to enjoy learning about it and potentially shaping it. Senator McCain was a hero, in part, of course, because of his war experience. But he took the fighter spirit and humanization he learned in the hardest possible way and applied it to his civil leadership.
That's a hero made.
News Item A-5: American Airlines President Robert Isom was brutally blunt in a "Town Hall" meeting this month with employees. He called the past 3 months a "long, hot, hard summer" as he tried to explain why (AAL)'s on-time performance has suffered so badly. Isom also hinted at what the future holds for (AAL) and how $75-a-barrel oil will affect that future for better and worse.
* Just how bad has it been for (AAL)?
In July, (AAL) the world's largest airline finished dead last in on-time arrival performance among the 4 largest domestic carriers, which also include on-time leader (DAL), (UAL) and (SWA). What Isom described as near constant weather problems in key markets throughout the domestic route system caused thousands of delayed or cancelled flights, a situation that pushed many (AAL) flight crews (FC) to the allowable work limits for weeks on end and hugely depleted reserve ranks. Still, some employees who listened to Isom at the "Town Hall" questioned whether the (AAL) President was right to blame weather for (AAL)'s problems. "While weather has certainly been an issue, it hits everyone. How you're prepared for it is what matters," said 1 veteran (AAL) employee. As Isom noted, the problems went well beyond the weather. The prolonged (PSA) Airlines (an (AAL) regional carrier) crew staffing software outage at (AAL)'s 2nd-largest hub at Charlotte International Airport "really hurt us." As did the urgent (and unexpected) rush to inspect fan blades on some 600 engines on (AAL)s 737 airplanes in the wake of the fatality related mid-flight engine explosion aboard a (SWA) jet in April. "There's a lot of stress out there," Isom acknowledged. Isom addressed another stress: rising fuel costs, caused in large part by oil rising from $45 to $75 a barrel. "And it's just sitting there," Isom said. That costly reality has forced (AAL) to start aggressively cutting unprofitable routes, with Chicago's O'Hare International Airport (ORD) ground zero for those cuts. This fall (autumn) (AAL) will eliminate all service from (ORD) to China, 1 of the world's fastest-growing travel markets, and >half the flights to Tokyo.
Isom said in his "Town Hall" remarks, however, that (AAL) is gung-ho about growth at Reagan National Airport in Washington, DC; Charlotte International Airport, where (AAL) is adding 6 gates over the next couple of years; and especially Dallas Ft Worth International Airport, where (AAL) will add a whopping 15 gates. He said the 3 aforementioned markets make the most money, so they will get a lot of attention. Still, there is no getting around the severe operational problems that afflicted (AAL) in recent months. He confessed "we haven't executed as well as I would like." Rank and file (AAL) employees, however, said the blame for that failure of execution is squarely on management. Noted 1 (AAL) veteran employee: "They must figure out how to reliably schedule (AAL) and provide front line employees the tools and staffing to properly serve our passengers." But (AAL) management is confronting thousands of employees upset anew about an attendance policy unveiled this last week and set to go into effect on October 1, another in a growing list of issues causing a drop in morale. Noted 1 veteran cabin attendant (CA): "The attendance policy is another blow to our work force in conjunction with the uniform debacle, fume events, payroll errors, an overhaul of the schedule bid system, etc. Morale has never been so low. Mergers are never easy, but most of us feel the (AAL) brand is being destroyed."
News Item A-6: Boeing: Asia-Pacific to Have Highest Growth Rate for Aviation Workers" by Adrian Schofield (ATW) Plus" August 28, 2018.
A rapid expansion in airplane fleets is expected to give the Asia-Pacific region the highest growth rate for all types of aviation workers over the next 20 years, according to a new Boeing (TBC) report. Boeing predicts Asia-Pacific will account for 33% of global demand for pilots (FC), as well as 34% of maintenance technicians (MT) and 36% of cabin crew (CA) members. In each case, the Asia-Pacific rate is significantly ahead of that for North America.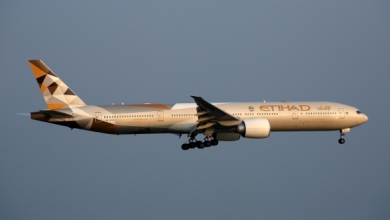 News Item A-7: "Etihad Incident Over Australia led to 777 Production Line Inspections" by Sean Broderick (ATW Plus), August 31, 2018.
A new report released by the Australian Transport Safety Board (ATSB) reveals an in-flight diversion of an Etihad Airways (EAD) Boeing 777-300ER on October 14, 2017 caused by chafing and arcing of incorrectly installed wire bundles led Boeing (TBC) to subsequently introduce new production-line inspections and issue maintenance recommendations to operators. The incident occurred during the cruise portion of a flight from Abu Dhabi to Sydney.
News Item A-8: ACCDT: A Russian UTAir (TYU) 737-8AS (1236-29936, /02 VQ-BJI) performing flight UT-579 on August 31st from Moscow Vnukovo to Sochi (Russia), crashed on landing with 164 passengers and 6 crew on board. The 737 landed on Sochi's runway 06 but overran the end of the runway and dropped into a river bed. The 737's left engine (CFM56) burst into flames. The airplane received substantial damage beyond repair. The airplane was evacuated, 18 occupants were injured, 8 of whom were taken to a hospital and the others remained unhurt. There were no airplane fatalities. The airport of Sochi reported 1 of their workers died as result of a heart attack whilst rescue and recovery work was ongoing during the accident.
The Interstate Aviation Committee (MAK) reported the 737-8AS (VQ-BJI) of UTAir (TYU) rolled beyond the end of the runway after landing and received substantial damage due to the roll out and subsequent fire. There were no airplane fatalities. The (MAK) have established an investigation commission.
See video of aftermath: Click here for video

__________________________________________________________________
This has been submitted by Peter A Ansdell, retired Boeing Management employee of many years. Peter has offered this for your reading enjoyment by his efforts as the Founder and Managing Director of his website: http://www.7jetset7.com which he tries to keep readers up-to-date on world jet aviation progress, including current jet airline operators, cargo jet operators, worldwide jet airplane manufacturers, industry control bodies, e.g. (IATA) , (FAA), (CAAC) , space exploration advances, prominent parts manufacturers, with a focus on aviation safety, and new developments. Its all our future. Please help to nurture and assist with its advancement.
(206) 361-1536 (home/office – with recorder)
(206) 779-5703 (cell/mobile – no recorder, no texts)
Website: contact Peter for the cost of access to his website (http://www.7jetset7.com).
Email: p.ansdell@comcast.net