(Boeing news snippets, photos, videos submitted monthly by member Peter Ansdell)

__________________________________________________________________
News Item A-1: For plane watchers see this 737 Max 7 flight demo with a wing wag. Click here for video

News Item A-2: Boeing (TBC) delivered 57 airplanes (21 737NGs; 22 737 MAXs; 767-300F; 777F; 12 787s) in October vs 56 (33 737NGs; 4 737 MAXs; 3 747s; 767-300F; 2 777Fs; 13 787s) in October 2017, and announced orders from Turkmenistan Airlines for 3 737 MAXs and Vistara for 6 787s.
Though (TBC)'s Dow-leading stock performance dipped sharply this month as investors worried about a drop in 737 jet deliveries, as well as the potential impact of tariffs and friction with China, (TBC)'s 3rd-quarter earnings results and confident management outlook turned that trend around. Boeing Chairman & (CEO) Dennis Muilenburg offered reassurance that the recent production problems on the 737 are being fixed and that deliveries will be fully back on schedule by year end. "While we're not complete with the recovery yet, we've made substantial progress." Teams of mechanics (MT) are gradually reducing the number of unfinished planes parked around the Renton plant, and "more and more, we're seeing airplanes being completed in place in the factory." Fuselages are now being delivered to plan from Spirit AeroSystems in Wichita, Kansas, and (LEAP) engine deliveries from (CFM) International should be fully recovered "towards the end of the year." He reiterated Boeing's intention to increase 737 production next year from 5/month now to 57/month. He said that won't produce the same supply-chain issues as did the production hike this year, which coincided with the complicated introduction of the new 737 MAX model. This year, (TBC) expects 40 to 45% of the 737s built to be 737 MAXs, and the rest being the previous model. "Next year, as we get to 57x-monthly, we'll be almost entirely 737 MAXs by that point." Meanwhile, production of the 787 in particular continues to improve and to bring in more cash every quarter. (TBC) generated $4.6 billion in operating cash flow in the quarter.

News Item A-3: "Doomed Lion Air Boeing 737 MAX 8 Airplane had Airspeed Failure on Prior Flight" by Julie Johnsson, Alan Levin and Harry Suhartono, Bloomberg News, November 1, 2018.
The Lion Air (MLI) jet that crashed into the Java Sea off Indonesia on October 29 had experienced problems with the sensors used to calculate altitude and speed on its previous flight, an issue that could help explain why the airplane dived into the water. Pilots (FC) on the nearly new Boeing 737 MAX 8 reported the issue after flying from Denpasar to Jakarta the night before the accident. The instruments were checked by maintenance workers overnight and the plane was cleared to fly. While it will be days or weeks before definitive information emerges in the crash shortly after takeoff with 189 people aboard, discrepancies in speed and altitude readings can cause confusion.
Flight-tracking data before the 2-month old (MLI) jet crashed showed the airplane was varying its altitude and speed, a possible indication that the pilots (FC) weren't getting accurate information from the airplane's air-pressure sensors.
Indonesian search teams retrieved the flight data recorder on November 1 after >3 days of hunt for the wreckage. They have yet to locate the cockpit voice recorder. Inspections of the 737 MAX 8 airplanes operated by (MLI) and Garuda Indonesia (GIA) since the accident, found no technical issues and according to Indonesia's Transport Ministry, a review of maintenance documents found no additional issues were reported on the airspeed and altimeter system in the past 3 months. However, in a crackdown on November 1, the Ministry ordered (MLI) to suspend its Director of Maintenance and Engineering Managers in charge of Quality Control and Fleet Maintenance, as well as the Engineer who signed off on the plane before takeoff. These measures were taken to facilitate a smooth probe, it said.

News Item A-4: "(FAA) Follows Boeing's 737 Safety Alert with an Emergency Directive," by Dominic Gates, Seattle Times Aerospace Reporter, November 7, 2018.
Following Boeing (TBC)'s safety alert in response to the Lion Air (MLI) 737 MAX crash in Indonesia, the (FAA) on November 7 issued an Emergency Airworthiness Directive, effective immediately, mandating that airlines must update pilot (FC) procedures according to the instructions in the alert. The (FAA) said its directive addresses the potential effects of false information coming from a sensor on the airplane's exterior that reports the plane's "angle of attack" (AOA), which is the angle between the wing and the flow of air the jet is moving through. This key data point is fed into the flight computer along with the temperature and air speed. These 3 metrics affect 1 another and are used by various systems that control the airplane's flight. The (FAA) said false (AOA) readings "can potentially make the horizontal stabilizers repeatedly pitch the nose of the airplane downward, making the airplane difficult to control." The danger, the (FAA) warned, is that this could "lead to excessive nose-down attitude, significant altitude loss, and possible impact with terrain." The Boeing service bulletin to airlines notes that though pilots (FC) may pull back on the yoke and adjust the horizontal tail to get the nose pointed back up, the condition pulling the nose down may then restart 5 seconds later. The (FAA) directive orders operators to revise the airplane flight manual to give the flight crew (FC) horizontal stabilizer trim procedures to follow when this condition arises to avoid the plane repetitively pitching downward. The directive repeats the information in the Boeing safety warning, which told operators that the false (AOA) reading could create a cascade of false indications on the flight deck that may confuse the flight crew (FC).
Altogether 246 737 MAXs are flying world wide, with 45 of these in the USA at Southwest (SWA), American (AAL) and United Airlines (UAL). The (FAA) said it "continues to work closely with Boeing, and as a part of the investigative team on the Indonesia Lion Air (MLI) accident, may take further appropriate actions depending on the results of the investigation." A Boeing Flight Crew Operations Manual (FCOM) bulletin to 737 MAX operators warns that erroneous angle-of-attack (AOA) data trigger automatic nose-down inputs and emphasizes that pilots (FC) must follow specific (FCOM) procedures to keep the airplane from descending uncommanded. The (FCOM) bulletin stems from the probe into the October 29 crash of a Lion Air (MLI) 737 MAX 8, Boeing said. The crash was the 1st by a 737 MAX airplane.

News Item A-5: Virgin Australia (VOZ) is on track to receive its 1st Boeing 737 MAX airplane in November 2019 and is not considering further delays to the delivery date. In early 2017 (VOZ) postponed the 737 MAX deliveries, which were originally scheduled to begin in September or October of this year. (VOZ) is scheduled to receive 30 737-8s and 10 737-10s. The 737 MAX airplanes will primarily be for fleet replacement, although some will also be for growth, Borghetti said. The "economics don't make sense" to delay retirement of (VOZ)'s 737-800s any further, Borghetti said. (VOZ) does not want to be in a position of operating 25-year-old airplanes and then facing a "tidal wave of capital expenditure" Higher fuel burn and increased maintenance boost the cost of operating older airplanes, he said. However, (VOZ) continues to upgrade its fleet of >80 737-700s and 737-800s. (VOZ) has installed onboard Wi-Fi on >60% of the domestic 737s, and the remainder are scheduled to receive the upgrade by the end of February 2019, Borghetti said. Installation on (VOZ)'s Airbus A330 fleet will be completed by September 2019.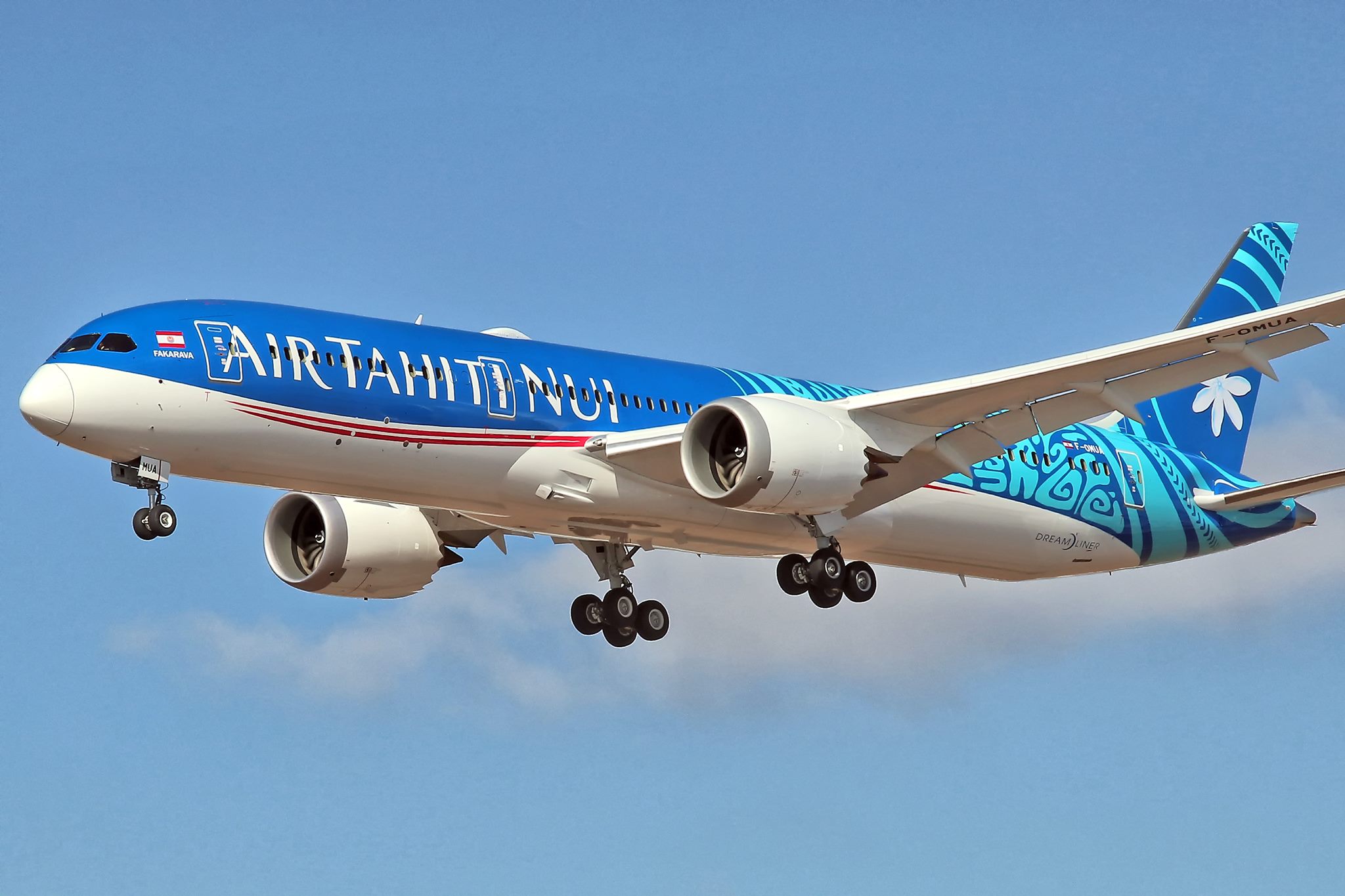 News Item A-6: "Air Tahiti Nui Debuts 787-9; Begins A340 Phaseout" by
Adrian Schofield, November 9, 2018.
Air Tahiti Nui (NUI) has taken the 1st step in its planned wide body fleet transition with the commercial debut of its 1st Boeing 787-9, which was delivered in early October. The initial 787 completed its 1st scheduled flight to Auckland, New Zealand on November 8. (NUI), the French Polynesian carrier plans to receive another 3 787s next year, allowing (NUI) to phase out its 5 A340-300s as the new 787-9s arrive, (NUI) Senior VP Commercial & Marketing, Christopher Korenke said. Korenke said the 1st 787-9 delivery was on schedule. (NUI) selected the (GEnx) engine option for its airplanes. The 2nd is scheduled to be delivered in January, with the 3rd in May and the last in September. The 1st 2 787s are leased from California-based Air Lease Corporation (ALE); the others will be owned.
The initial 787 will be used on the route from Papeete, Tahiti to Auckland, NZ and will also take over some of the frequencies from Papeete to Los Angeles (LAX), California. The 2nd 787 will be used on flights to Tokyo and additional (LAX) frequencies. At the end of March, the 2 787s will be deployed on the Papeete to Los Angeles to Paris route for the northern summer season. The 3rd and 4th 787s will allow the other routes to transition to 787s.
News Item A-7: "Boeing Finishes Body Join for 1st 777X Flight Test Airplane" by Guy Norris, November 20, 2018.
The airframe of the 1st Boeing 777-9 flight test airplane has been completed in the company's Everett, Washington, facility marking a key milestone toward rollout and 1st flight of the initial 777X family variant in early 2019. The 777-9, (WH001), underwent final body join in the 40-24 building where Boeing (TBC) has set up a temporary low rate initial production (LRIP) line to avoid disrupting the current 777-300ER/200F line in the adjacent building 40-25.
Five 777-9 airframes, four for flight testing and one for fatigue tests, are currently in various stages of assembly on the (LRIP) line. Boeing, which completed assembly of the static test airframe in September, is also expected to build up to 30 follow-on 777-8/-9s on the (LRIP) line before 777X production is fully transitioned to building 40-25 in the early 2020s.
Production of the 1st 2 777-8s for flight test is expected to follow on the (LRIP) line in 2020. Rollout of the 1st 777-9X is scheduled for early 2019 with the 1st flight widely expected in the 2019 2nd quarter. All 4 777-9 test airplanes are scheduled to be in the flight program by late 2019 with 1st deliveries scheduled to begin around May 2020. 1st 777-8 deliveries will start in 2022.
Launched in early 2013, the 777X builds on the current 777-300ER fuselage and adds an all-new composite wing, as well as the new General Electric-developed (GE9X) engine. The program has remained broadly on track, although some minor schedule slippage has occurred because of development issues with the (GE9X) and manufacturing challenges associated with detailed assembly of the initial composite wings. However, despite the rollout now expected to occur in February 2019 (rather than December 2018) Boeing still expects to maintain sufficient schedule margin for an on-time delivery to launch customer Dubai-based Emirates Airline (EAD) in early 2020.
Configured with 235 ft span, high-aspect wing, the 777X is designed to have -12% lower fuel
consumption than the Airbus A350-1000. Compared to the 365-passenger 777-300ER, the 400-to-425 seat 777-9 is stretched by 9-ft to give an overall length of 252 ft, making it the longest airliner Boeing has ever produced. The shorter 777-8, measuring 229 ft in length overall, will seat around -10 passengers less than the current 777-300ER, and will see around a 13% improvement in fuel consumption while flying >1,000 nm further.

News Item A-8: "Caribbean Airlines Orders 12 737 MAX 8's" by Aeronautics Aviation News & Media, November 21, 2018.
Caribbean Airlines (TTA), Trinidad & Tobago's flag carrier, placed an order on November 20 for 12 Boeing 737 MAX 8 airplanes. The order is part of (TTA)'s fleet renewal program. (TTA) currently operates 12 737-800s. (TTA) currently serves various destinations throughout the Caribbean and the USA. "The 737 Max allows us to continue offering a safe and comfortable experience for our passengers, while significantly improving fuel efficiency and environmental performance," said Caribbean Airlines Chief Executive Officer (CEO) Garvin Medera. "Boeing (TBC) has been by our side since Caribbean Airlines (TTA) was founded 12 years ago using the 737-800.
"In 2019, we will place even greater focus on enhancing regional connectivity with more options to make our region more easily and affordably accessible," said Shameer Ronnie Mohammed, Chairman of Caribbean Airlines. "Also, to ensure that our longer-term growth strategy remains on track, I am thrilled to announce that in the 4th quarter of 2019, we will begin taking delivery of our new fleet, the Boeing 737-MAX. In addition to opening new markets, these new airplanes will provide us significant advantages on operating cost, specifically fuel and maintenance."

News Item A-9: Jeju Air (JJA), South Korea's biggest low-cost carrier (LCC), has revealed a purchase for 40 Boeing 737 Max 8 worth USD$4.4 billion. The order includes an option to buy an additional 10 airplanes. This deal is the biggest contract by any South Korean carrier by number of single-sale airplanes. "Reuters" exclusively reported earlier this month that (JJA) was in talks with Boeing to buy 50 jets as the airline plans to expand its network to include the world's busiest routes. (JJA) plans to take delivery of the planes between 2022 and 2026.
6 South Korean budget carriers have seen increases in the number of passengers using international routes. These airlines carried 4.9 million passengers in 2013 and 20.3 million passengers in 2017. (JJA) said that the order of Boeing 737 Max planes will help it maintain its competitiveness and fuel growth as a leading carrier. The company currently operates 58 routes with 38 Boeing 737-800 airplanes, many of which may be replaced with new 737 Max 8s.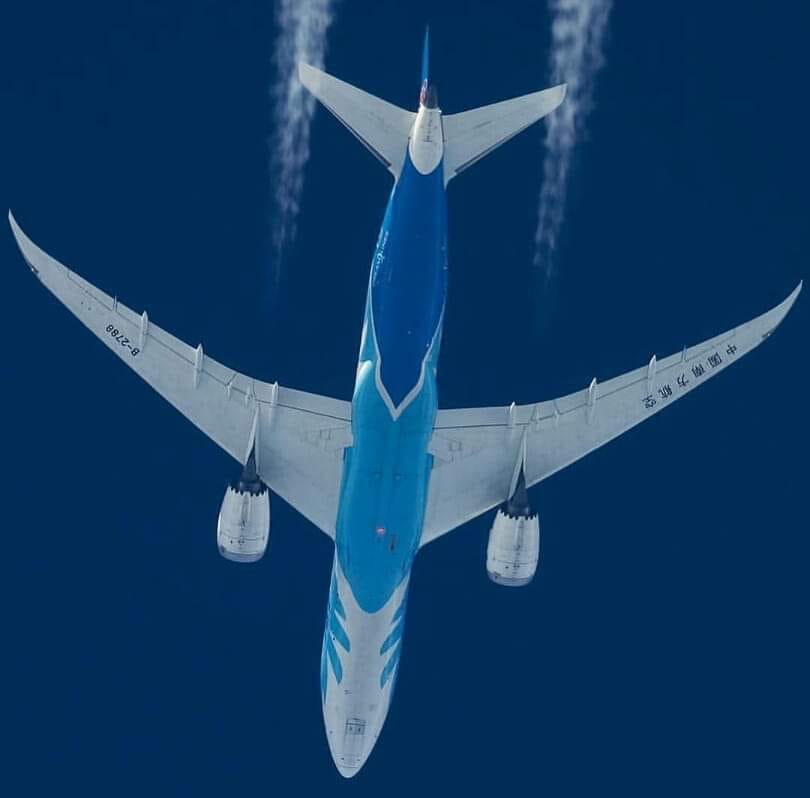 News Item A-10 Boeing (TBC) received an order from Turkish Airlines (THY) for +3 more 777-200F freighters (now 8); as part of the deal, (TBC) plans to open an Engineering center in Istanbul to support Turkey's growing aerospace capability.

__________________________________________________________________
This has been submitted by Peter A Ansdell, retired Boeing Management employee of many years. Peter has offered this for your reading enjoyment by his efforts as the Founder and Managing Director of his website: http://www.7jetset7.com which he tries to keep readers up-to-date on world jet aviation progress, including current jet airline operators, cargo jet operators, worldwide jet airplane manufacturers, industry control bodies, e.g. (IATA) , (FAA), (CAAC) , space exploration advances, prominent parts manufacturers, with a focus on aviation safety, and new developments. Its all our future. Please help to nurture and assist with its advancement.

(206) 361-1536 (home/office – with recorder)
(206) 779-5703 (cell/mobile – no recorder, no texts)
Website: contact Peter for the cost of access to his website (http://www.7jetset7.com).
Email: p.ansdell@comcast.net