(Boeing news snippets, photos, videos submitted monthly by member Peter Ansdell)

__________________________________________________________________
Planespotters Delights
See video of making the IcelandAir (ICE) 737 MAX
See video of Norwegian (NWG) 787-9 LN-LNL assembly
Some of us remember dressing up for an airline flight
See Boeing Promotional video of the 747 from the archives
News Item A-1: Boeing (TBC) employees across Washington State, USA will receive incentive bonuses totaling nearly $429 million this February, 2019, almost half of the $886 million in bonuses being paid company wide. But despite the record financial results (TBC) announced this week, the bonus payments fall short of last year's levels. The average payout to all 123,600 eligible employees worldwide is nearly $7,200. The figure includes bonuses for all employees except company executives, who have separate incentive schemes. (TBC) declined to say precisely how many state employees are eligible. But with the local workforce standing at just >69,800 at year-end, with some 8,500 new hires joining and 4,500 others leaving at some point, that total payout means the average here is likely to be around $6,800. (TBC)'s performance-based incentive plans mean bonuses for most employee groups (managers, plus nonunion and unionized white-collar staff) will pay 166% of the target payout on February 21. The percentage figure is based on (TBC)'s strong 2018 financial performance, though short of the maximum payout of 200% and lower than last year's figure of 187%. Members of the Machinists union are on a separate incentive plan based on measures assessing quality, productivity and safety, all of which were high in 2018. The International Association of Machinists (IAM) incentive plan will pay each union member 5.6% of their 2018 annual pay on February 28, just shy of the maximum 6% possible under the contract. Many of the Machinists will get an extra hefty bonus because they worked a lot of overtime in 2018 to build a record number of airplanes. Still, last year the total (TBC) incentive bonus payout was greater, a record in company history. A year ago, the 187% of target payout to (TBC)'s white-collar staff, along with Machinists bonuses equal to 5.5% of their total annual pay, resulted in a total of $600 million in bonuses to Washington State employees. This year, unionized engineers and technical staff represented by the Society of Professional Engineering Employees in Aerospace (SPEEA) will each receive +16.6 days' extra pay, 166% of the 10-day target, out of a maximum 20 days. That's about 6.4% of annual salary. Last year, (SPEEA) members received a bonus equal to 18.7 days of extra pay, or about 7.2% of their annual salary.
For nonunion white-collar staff, while overall, the total payout will also be 166% of target, but the target itself also depends upon an assessment of individual performance by supervisors.
Employees whose performance is assessed as "exemplary" have a target set at 7% of salary and so this year will get 1.66x- that or 11.6% of salary. Lower assessments of performance successively lower the targets, as far as zero for "not effective." For managers, the incentive-plan award is based on individual performance, leadership attributes and business performance. 1st-level managers will get 1.66x- a target award of 10% of salary. 2nd-level managers have a target of 14% of salary and 3rd-level managers 18% of salary. Aside from the Machinists' and managers' performance plans, the other incentive payouts are based on 3 financial metrics: revenue, core earnings per share and free cash flow. A (TBC) internal presentation on this year's bonuses, obtained by The Seattle Times, notes that 2018's record revenue of $101.1 billion was well above the $97 billion target; core earnings per share came in at a record $16.01, well above the $13.90 target; and free cash flow at a record $13.6 billion was well above the $12.8 billion target. The reduction in the size of this year's incentive payouts compared to last year, despite those record financial results, seems to be because the performance target for each of the metrics was set very high. The internal company presentation quotes (TBC) Chief Financial Officer & Executive VP Greg Smith as saying, "We set ourselves challenging goals for the year." Setting the tone for the year ahead, Smith added: "Ensuring we deliver on our commitments to our customers throughout 2019 will be critical in ensuring we continue to meet our business goals and reward our teams."
News Item A-2: "Boeing's Decision of the Decade: Does It Build the 797?" by Julie Johnsson, Bloomberg News, January 29, 2019.
Boeing Company (TBC) executives are closing in on one of their most important decisions of the decade: whether to plow an estimated US$15 billion into a new jetliner family. The airplane "nicknamed" the 797 would feature Boeing (BCA)'s 1st all-new design since the 787 Dreamliner's unveiling in 2004, while shoring up its product line against recent Airbus (EDS) "SE" advances. (EDS)' incoming boss, Guillaume Faury, saids he's waiting for (TBC) to tip its hand before revealing counter moves. That sets up a likely showdown at the Paris Air Show in June. Designed for economical flying on mid-range routes, the (BCA) jet would have the potential to transform air travel by spawning a new breed of longer-distance budget carriers (think new flights from Chicago to Berlin, or more economical hops from New York to Los Angeles. But the decision on whether to move forward hasn't been easy. A misfire would cannibalize sales of the 787 Dreamliner and endanger the cash bounty that has made (TBC) a darling of Wall Street. "Every single other (BCA) jet has been pretty much a guaranteed home run, even if it wasn't clear at the time," said aerospace analyst Richard Aboulafia. "This is different. They've got to be careful with this."
Boeing's board is expected to review the case for the new program by the end of March, according to people briefed on the matter. For now, the team spearheading the concept, led by former 787 Program Head Mark Jenks, has been meeting monthly with (CEO) Dennis Muilenburg and (CFO) Greg Smith. The sales force has been fine-tuning the design with airlines for at least 5 years, creating a "will it or won't it?" drama around the decision on whether to make the plane, known internally at (BCA) as the new, middle-of-market airplane (NMA). "With some planes, the technology is the 'moonshot'; with this, it's the business case," Aboulafia said. The word "moonshot" is the term Boeing (TBC) uses for quixotic gambles that it has vowed to avoid after loading the 787 Dreamliner with groundbreaking technology and an unproven production system (then losing money on the 1st 500 or so planes after extensive delays).
For (TBC) and (EDS), committing to an all-new airplanes is a once-in-a-decade event. Costs are prohibitive, delays are the norm and payoff can take years to materialize. (TBC) could easily spend >US$15 billion on the (NMA), according to Ken Herbert, analyst with Canaccord Genuity, and (EDS) may be forced into a clean-sheet design if sales take off. Airline entrepreneur David Neeleman underscores the potential rewards, and risk, for (TBC). The (NMA) seems tailor-made for the networks he is weaving together between the Americas and Europe with affordable, yet comfortable flights that skip congested hubs. "I had a briefing from (TBC) and I thought it was great," Neeleman said during a recent visit to Chicago to tout Portugal's (TAP) airline, one of his holdings. That's noteworthy, coming from an executive who has mostly favored Airbus (EDS) jets at startups such as JetBlue Airways (JBL), Brazil's Azul (AZL) and Moxy, the code name for his latest USA project. Unfortunately for (TBC), Neeleman is also impatient for (EDS) to speed up a cheaper alternative. "They should be at a lot bigger head start," he said of the Toulouse, France-based aerospace giant. It's a hint of the dynamics that can spoil airplane bets that sprawl over decades. The sales appeal for a plane family overlapping (TBC)'s largest single-aisle, the 737 Max 10, and smallest wide body, the 787-8, is just one question mark? Another is how much savings (TBC) can reap from a new manufacturing system. Muilenburg is increasingly confident (TBC) can shave time and money from development and final assembly through new digital tools that anticipate and track how the plane is built, and then monitor how it is flown. (TBC)'s new military training jet hints at the breakthrough it sees for the (NMA). For (TBC)'s Super Hornet fighter, factory workers in St Louis need 1.5 days to rivet together the 2 main fuselage sections. On the new T-X trainer, the components are joined in <1 hour, said Leanne Caret, Boeing's Defense Chief. If (TBC) hesitates, (EDS) will woo its customers with capable, if not cutting-edge, jet upgrades. Delta Air Lines (DAL) and United Continental Holdings (UAL), for example, need to replace hundreds of the aging (TBC) 757 and 767 jetliners that once dominated mid-range flying. The Airbus (EDS) plane that sparked Neeleman's interest is a relatively simple upgrade of the A321LR jet that would be ready by 2023, 2 years ahead of the (NMA). Redesigned fuel tanks would give it the longest range of any (EDS) single-aisle jet. Faury, who is slated to become (EDS)' (CEO) in April, won't say if a decision on the so-called A321XLR is imminent, or even if it's the likeliest response. "We don't feel under pressure to react, even before (TBC) has moved," he said earlier this month. "Market share for the A321 is very big because there's no real competition, and we'll keep improving this product to serve the low end of the middle-of-market space." (BCA)'s design features a slightly oval-shaped fuselage that saves weight and fuel by devoting more space to passengers and less to freight in the plane's belly. A smaller version would seat 220 travelers, while a larger model would seat up to 270 people, with trip costs that are about -40% lower than today's wide-body airplanes. Neeleman is impressed by how Boeing designers "innovatively turned the fuselage, so you aren't carrying all that structure from cargo. They claim they're going to get the seat-mile costs of a narrow-body and have 2 aisles, which would be sweet if they can pull it off." (TBC) usually staggers the release of variants within an airplane family by a year or 2. But the manufacturer has mulled certifying the (NMA) models concurrently to avoid missing the replacement opportunity, according to people familiar with the matter. The 797 will need to be priced somewhere between (EDS)' offerings to be competitive. The A321LR goes for about US$60 million with all the bells and whistles, while a wide body A330-800 is typically priced at about US$100 million, said George Dimitroff, Head of Valuations for Flight Ascend Consultancy. "I have no doubt there will be demand for the airplane," Dimitroff said, pointing to "new opportunities for low-cost, long-haul service. I think the (NMA) will take that a step further."
News Item A-3: "Boeing Invests in Advanced Supersonic Business Jet," Seattle Times, February 5th, 2019.
Boeing (TBC) announced February 5th a significant investment in Reno, Nevada, USA-based Aerion, which is developing an advanced supersonic business jet. The 12-passenger "AS2" will fly over oceans at speeds up to Mach 1.4 or approximately 1,000 miles per hour, and is slated for 1st flight in 2023. The 12-passenger AS2 will be built mostly from carbon fiber composite and is designed to fly over ocean routes at speeds up to Mach 1.4, or approximately 1,000 miles per hour. Over land, the AS2 is intended to cruise at Mach 0.95, to avoid sonic booms that would breach noise regulations.
Flying up to 70% faster than today's business jets, the AS2 could save approximately 3 hours on a transatlantic flight. The SST is slated for 1st flight in 2023. Aerion believes that later versions of the SST will include technology to allow it to cruise supersonically at speeds approaching Mach 1.2 without a sonic boom. Development of such technology could be key to the business case. The 1973 ban on overland supersonic flights in the USA, due to concerns about the impact of sonic booms, severely limited the market for the Concorde SST. Steve Nordlund, VP & General Manager of Boeing NeXt, the company's research and development unit focused on autonomous flight and advanced propulsion, said that in partnering with Aerion, (TBC) aims to "safely and efficiently connect the world faster than ever before. This is a strategic and disciplined leading-edge investment in further maturing supersonic technology," Nordlund said, adding that the combination of "Aerion's supersonic expertise with (TBC)'s global industrial scale and commercial aviation experience (will) build the future of sustainable supersonic flight."
Terms of the deal were not disclosed. However, (TBC) will fill 2 of Aerion's 5 board of director seats, suggesting it has taken a significant equity stake. Joining the board are Mike Sinnett, VP Product Strategy & Future Airplane Development at Boeing Commercial Airplanes (BCA), and Ken Shaw, VP Supply Chain at Boeing Global Services.
Last June, (TBC) revealed research into a small Mach 5 hypersonic airliner, though it conceded that is 20 to 30 years away from becoming a reality. Other startups are also pursuing supersonic flight. Boom of Denver, Colorado is developing a 55-seat Mach 2.2 airliner, and plans to fly a 2-seat concept demonstrator ("Baby Boom") this year.
The sudden interest in supersonic designs comes 15 years after the Concorde SST was grounded. That plane, though a technical marvel and a beautiful shape, never made money; only 20 were built and only 14 were ever sold commercially. In this month's edition of AirFinance Journal, aviation expert Adam Pilarski of consulting firm Avitas predicted that air passenger traffic will move towards supersonic aircraft, at 1st in smaller aircraft "with only 1 (very expensive) class" then later on supersonic aircraft with different classes of service. "The world's wealth is rising constantly and a larger part of the population will be able to afford faster, though more expensive, travel." Aerion unveiled the AS2 business jet design in 2014 and last year announced the selection of (GE)'s Affinity engine to power the airplane and of Honeywell (SGC) to design the cockpit. The (TBC) deal is the latest in Aerion's changing carousel of big aerospace partnerships.
News Item A-4: "Boeing Sees $745 billion Services Market in Middle East" by Lee Ann Shay, February 11, 2019.
An aging fleet of wide body airplanes in the Middle East and the need to refresh them, will drive higher than average maintenance and engineering growth in the region, according to (TBC). ( TBC)s Services Market Outlook forecasts Maintenance & Engineering will comprise 4% of the $8.8 trillion world wide commercial aviation services market over the next 20 years, compared to a 4.8% allotment for Middle East services specifically, Boeing Global Services (CMO) Commercial Services Debra Santos said. In the Middle East, (TBC) projects a need for 2,990 new aircraft valued at $660 billion over the next 20 years to support fleet renewal and growth, bringing the fleet to 3,890 airplanes. (TBC) forecasts that fleet will generate a total services market (including Ground & Cargo Operations, Maintenance & Engineering, Flight Operations, Marketing & Planning, and Corporate Functions) of $745 billion by 2037. The (MRO) piece of that is $240 billion, or 4.8%, Santos said.
Wide body airplanes dominate today's Middle East fleet, at 52%, but that will drop to 47% by 2037, because of the growth of low-cost carriers in the region, she said. That means single-aisle airplanes should comprise 52% of the fleet in 20 years, up from 45%. The large Boeing 777 fleet could provide an opportunity for a converted freighter, which Santos said (BCA) is studying. "We're getting a lot of pressure" to offer a converted freighter but (BCA) is still talking to customers to understand their requirements, so she could not comment on a potential launch time line. In 2018, (BCA) produced 83 new production 747F, 777F and 767F freighters and 43 converted 767-300s and 737-800s.
In addition to Boeing's Aviall and Jeppesen facilities in Dubai, it has partnerships with Alsalam Aerospace Industries, Emirates Flight Training Academy and Saudi Rotorcraft Support in the region. Emirates Flight Training is evaluating new digital tools, such as virtual reality, to make the classroom process more efficient, Santos said. Boeing projects the Middle East will need 63,000 new Maintenance Technicians (MT), 60,000 pilots (FC) and 95,000 cabin crew (CA) (or 218,000 new personnel) to support the region's growth over the next 2 decades.
News Item A-5: "Boeing, Spirit AeroSystems Train for 57-per-month 737 Production Rate" by Michael Bruno, February 11, 2019.
(BCA) and Spirit AeroSystems, a sub-assembly provider to Boeing 737 and other commercial programs, are practicing for a narrow body production rate of 57 airplanes a month in Wichita, Kansas. Spirit's fabrication unit already is getting into rate 57 production, according to Spirit President & (CEO) Tom Gentile. But the rehearsals (which were (BCA)'s idea) are across the board and have helped identify needed changes before (TBC) officially declares the rate increase, starting with a need for additional dollies to shuttle parts around Spirit's factory. "With the rehearsals, we practice 3 deliveries every day for 3 days in a row. "So, [we] stress the system, and then we relax back to the normal pattern to see where we need to make improvements," Gentile said. "We check on labor productivity, we check on tooling, we check on the infrastructure. We've identified some gaps and opportunities to improve." The rehearsals for rate 57 come after Spirit and other suppliers fell behind in 737-related deliveries to (BCA) in 2018, spurring a sizable response from both companies that included a surge in hiring, some of which is being retained for the hike to 57. "We're well on the way to implementing the 57 for 737" Gentile said. Cranking up to rate 57, further helps Spirit to be more efficient now and prepare for further rate hikes. In 2016 at a 42 rate, Spirit had 2 production lines in its main plant, each producing 21/month, or essentially 1 unit from each line every work day. For a 47 rate, Spirit opened a 3rd line, but only 1 airplane came off every 4 days.
At rate 57, Spirit will have 3 lines, each producing 19 737 sub-assemblies a month, or about 1 a day each and with a 2 day buffer built in to each line. "We're going to be very balanced (more balanced than we've been since 2016)," Gentile said. "If they go to 63, we could increase those 19 units-per-month lines, the 3 of them, to 21, which is where we were in 2016." The rehearsals come as (TBC) and Spirit appear to be working closer than at any time since Spirit spun out of (TBC) in 2005. The tighter relationship stems in part from a new master agreement the companies definitised in January. Under that arrangement, the companies agreed to split the cost of many improvement efforts. "With skin in the game on both parties, there is an incentive," Gentile said. "You can't be one-sided, or you will never get that support from Engineering." Of course, the ultimate reward is cashing in on the roughly 7-year backlog of 737 orders. For Spirit, analysts at Jefferies have estimated that each airplane increase to the monthly 737 production rate could be worth $76 million, or 1% point of growth of revenue, and $0.10 of additional earnings per share.
Spirit also sees an opportunity for growing work with Airbus (EDS), too, starting with the new A220. Gentile noted that (EDS) has said it wants to cut costs in the supply chain to help justify taking over the former CSeries from Bombardier (BMB). Spirit already provides the pylon on the aircraft, but nothing else. With the program handover, (EDS) has more authority to move work among suppliers. "There is a big opportunity for us to get more work packages on the A220 to help out on (EDS)' cost challenges," Gentile said.
News Item A-6: Airbus (EDS) Announced on January 14, 2019 that it will End Production on the A380″ by Dominic Gates, Seattle Times Aerospace Reporter, February 15, 2019.
The Airbus A380 super jumbo jet was the largest airliner ever built at the time, then the pride of Europe, a majestic double decker that thrills onlookers as it flies past and offers passengers unprecedented space and comfort. Now, it's also the biggest jet-program failure in Airbus history. The decision to end the program, came after Gulf Carrier Emirates (EAD) canceled orders for 39 of the giant airplanes, leaving a backlog too small to sustain production beyond early 2021. Strangely though, it may account to good news for Airbus' future. And for lone rival Boeing, while there is a silver lining some years out, near-term there could be -ve impacts. The blow to Airbus has complex implications for both airplane manufacturers. It comes with an accounting write-off of 463 million euros/US$ 523 million, marking at least an endpoint to years of losses for Airbus. However, the financial damage is limited because billions of dollars in European government launch aid will now be forgiven.
The sting of the A380 blow will also be A380 blow will also be soothed by compensatory orders from Emirates (EAD) for Airbus' smaller A350 and A330neo wide body jets. Those new orders could have a secondary effect that damages Boeing, with those Airbus jets replacing an (EAD) commitment for 40 similarly sized 787-10s that was never finalized.
And counter-intuitively, Airbus believes that the forgiveness of the government launch-aid loans that comes with termination could give it a get-out-of-jail-free card in the case against it at the World Trade Organization (WTO).
Boeing may have to contend itself with the promise that the 777-9X (see photo) will win new orders 3 or 4 years out after it displaces the A380 as the biggest plane in the sky.
* Contrasting histories
The A380 failure is Airbus' 2nd airplane jet-program ended prematurely in 2012. In contrast, Boeing, despite enormous troubles with many of its airplane programs, in each case has struggled through to commercial success. Airbus delivered just 377 of the 4-engine A340s before it terminated that program. And after it delivers the final 14 A380s to (EAD) by early 2021, the super jumbo program will end with just 251 deliveries. In contrast, not counting the failed 717 inherited from McDonnell Douglas, none of Boeing's 1st 7 legacy jet programs, from the 707 to the 777, has sold <1,000 planes. (For the small, single aisle 737s, make that 10,500 and counting). And Boeing's 8th legacy program, the 787 has already delivered almost 800 jets, with firm orders that will take it past 1,430 deliveries. The starkest A380 comparison is with the venerable Boeing 747 jumbo jet, which just turned 50 years old, and has survived through multiple improved iterations to the latest 747-8 of these "Queen of the Skies" airplanes. The 747 1st flew in 1969 and the A380 in 2005. Astonishingly, Boeing should still be building the 747 when the A380 is gone. * Airplanes of the future In an interview at the Farnborough Air Show, England UK in July, (EAD) (CEO) Sir Tim Clark was still hoping to persuade Airbus and Rolls Royce (RRC) to upgrade the A380 with new, more efficient engines and improved aero-dynamics including winglets. He characterized the A380 As integral to "the bold and brave business model" of his airline, which flies huge numbers of passengers long haul from its hub in Dubai. But he conceded that aerospace-efficiency improvements since the A380 was designed in the 1990s were "step changes that left the A380 behind." When he couldn't get (RRC) and Airbus to invest the money in improvements, Clark finally decided to drastically pare back his order. With (EAD) effectively the sole customer left, Airbus pulled the plug. "We have no substantial A380 backlog and hence no basis to sustain production, despite all our sales efforts with other airlines in recent years," said Airbus Chief Tom Enders. Some 3,000 to 3,500 Airbus employees across Europe work on the A380. On Thursday, the management offered the hope that job losses will be limited by increases in production on other programs, including the A320, the A330neo and the A350. The agreement with (EAD) replaces the 39 A380s it canceled with new orders for 40 A330-900neo and 30 A350-900 aircraft. The order for the slow selling A330neo will be particularly welcome. And these 2 orders may be bad news for Boeing because it's now widely expected that (EAD) will pull out of a fall 2017 nonbinding commitment to buy the 40 787 Dreamliners. The only potential silver lining for Boeing is that the demise of the A380 will stimulate orders for the forthcoming 777-9X, due to roll out of the Everett factory for the 1st time this month, and seating up to 425 passengers. (EAD) may compensate Boeing for nixing the 787-10 order by adding more to its current order for 150 of the big 777Xs. Boeing could certainly use a sales boost for the 777X, which have been stalled since its launch in 2013. Doug Harned, an analyst with Bernstein Research, wrote in a note to investors Thursday that "with the decline of the A380 and no other 400+ seat airplanes on the horizon, the 777X will be the principal aircraft for large, long range routes." However, for now this market for very very large airplanes is slumped. (EAD) neighbor Etihad (EHD), the troubled carrier of Abu Dhabi, just cut its Airbus order by 42 A350-900s as part of a financial restructuring, and it is expected to defer or cancel part of its order for 25 777Xs. "Nobody seems to want a bigger airplane right now," said aviation analyst Richard Aboulafia of the Teal Group. He said he expects that eventually the death of the A380 will be good for the 777X, as it becomes the largest airliner available. "But it looks like the 777X will have to get through some thin times before it inherits that mantle, Aboulafia said." * Subsidies and risk The A380 failure also points to a large imbalance in the risk borne by the 2 airplane giants when they launch new jet programs. The financial blow to Airbus of the A380 failure, while severe, is cushioned by not having to fully repay the government loans it used to hep develop the A380. In contrast, a commercial failure of similar magnitude could potentially bring Boeing down. It's an argument Boeing has cited repeatedly in the USA case against Airbus at the (WTO). The USA claimed in its (WTO) filings that Airbus received a total of about $4 billion in launch aid for the A380. According to the European Commission (EC), between 1992 and 2010 the governments of France, Germany, the UK and Spain provided launch funding to Airbus covering 3 jet programs (the A330-200, the A340-500 & A340-600, and the A380) amounting in total to 3.7 billion euros/US$ 4.2 billion. The vast majority of that was for the A380 and in theory it should all be paid back with interest. Last May, the (WTO) ruled in a final decision that Airbus had failed to fix the harm to Boeing from both the A380 and subsequent A350 launch aid. Since then, Boeing's lawyers have filed motions to impose sanctions on Airbus. The crux of the (WTO) ruling is that the government loans to Airbus for those 2 jet programs were not granted on standard commercial terms. For Boeing, it's always been a key point that since the repayments are a fraction of the profit on each delivery, once deliveries end, no more repayments are due and the rest of the loan is forgiven. Excluding the enormous costs of development, Airbus said it "broke even" on production costs of the A380 in 2015, which means it would have begun then, as it booked a small profit for each airplane, to make the initial, small repayments on the launch aid loans. However, when lack of demand forced Airbus to cut the planned production rate for this year from 12 to just 6 airplanes, (CEO) Enders conceded that at 6 per year, they were losing money. That is very clear." So A380 repayments have stopped and there won't be any more. Aboulafia, speaking on the sidelines of the Pacific NW Aerospace Alliance annual conference in Lynwood, WA, USA said "You can't talk about a loan being on commercial terms if you are indemnified against failure." The termination of the A380 "gives Boeing a strong moral argument," he added. However, because the (WTO) lacks any teeth to enforce its rulings, Aboulafia said he's pessimistic about any impact on the case against Airbus that has already dragged on >14 years. I don't see anything enforceable coming out of this. Going further, the (EU) is expected to file a formal motion declaring that the A380 cancellation satisfies its duty to comply with the (WTO) Panel's ruling. That's because when Airbus' A340 loans were forgiven after that program was canceled, the (WTO) panel ruled that the A3240 subsidies were ended and no longer relevant to the case. A person close to the (WTO) on the European side said that almost all of the sanctions against Airbus that Boeing's trade lawyers have called for "hinge on future sales of the A380," sales campaigns that are now dead. The (WTO) is interested only in future market effect. The market effect of a stopped program is zero. What remains of their sanctions case ended. Boeing declined to make anyone available to discuss the impact on its (WTO) case.
News Item A-7: "Vietjet Doubles Existing Boeing 737 MAX Order to 200 Airplanes" February 28, 2019.
In a big day for Vietnamese aviation, Boeing (TBC) and Vietjet Air (VJE) have confirmed (VJE) has purchased 100 additional 737 MAX airplanes. The deal takes (VJE)'s 737 MAX order book to 200 jets. During a signing ceremony in Hanoi, USA President, Donald Trump and Vietnamese Communist Party General Secretary & President, Nguyen Phu Trong joined leaders of both companies to unveil the $12.7 billion order, according to list prices. The deal includes 20 737 MAX 8s and 80 of the new, larger 737 MAX 10 variant. In ordering 80 737 MAX 10s, (VJE) becomes the largest Asian customer of the airplane type. (VJE) plans to use the added capacity to meet growing demand across Vietnam, as well as to serve popular destinations throughout Asia.
"The deal for 200 Boeing 737 MAX airplanes is an important move for us to keep up with our international flight network expansion plan with a higher capacity, thus offering our passengers with more exciting experiences when being able to fly to more new international destinations," said Ms Nguyen Thi Phuong Thao, President of (VJE). "I believe that our fleet will have breakthroughs thanks to new-generation technologies, which helps improve flight quality and enhance operational reliability, while reducing operating costs in the future. Passengers will then have more opportunities to fly with reasonable fares." "The contract signing ceremony, which was witnessed by the top leaders of Vietnam and the USA on the occasion of the USA – North Korea Summit in Hanoi, will mark a milestone in the 2 companies' growth path."
(VJE) placed its 1st order for 100 737 MAX airplanes in 2016, which set the mark for the largest commercial jet purchase in Vietnam's aviation sector at the time. "We are pleased to expand our partnership with (VJE) and to support their impressive growth with advanced airplanes such as the 737 MAX. We are confident the 737 MAX will help (VJE) grow more efficiently and provide great travel experiences for their passengers," said Boeing Commercial Airplanes President Kevin McAllister. "The economic expansion in Hanoi and across Vietnam is impressive. (VJE) and the country's burgeoning aviation sector are clearly enablers, helping to stimulate travel within Vietnam and connecting Vietnam with the rest of Asia. "We are proud to support this economic development, which in turn supports engineering and manufacturing jobs in the USA)."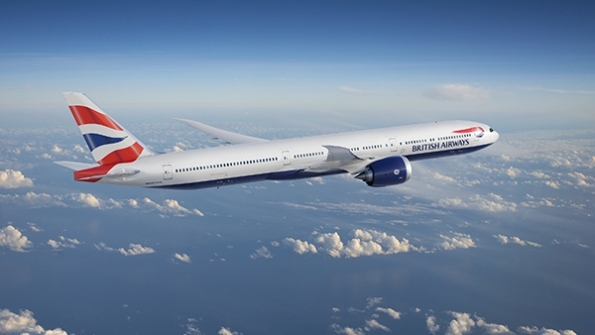 777X in British Airways colours
News Item A-8: The International Airlines Group (IAG) has ordered up to 42 Boeing 777-9 airplanes for its British Airways (BAB) subsidiary. If all options are exercised, the deal is valued at $18.6 billion at list prices.
News Item A-9: "SpaceX (SPX), Boeing (TBC) Design Risks Threaten New Delays for the USA Space Program" by Reuters Rob Vogelaar, February 22, 2019.
(NASA) has warned SpaceX (SPX) and the Boeing Company (TBC) of design and safety concerns for their competing astronaut launch systems, according to industry sources and a new government report threatening the USA bid to revive its human spaceflight program later this year. (NASA) is paying (SPX) $2.5 billion and Boeing $4.2 billion to build rocket and capsule launch systems to return astronauts to the International Space Station (ISS) from USA soil for the 1st time since America's Space Shuttle program went dark in 2011.
Just ahead of the 1st scheduled un-manned test flight slated for March 2, 2018 under (NASA)'s multi-billion-dollar Commercial Crew Program, (NASA)'s safety advisory panel cited 4 "key risk items" in its 2018 annual report earlier this month. For Boeing (TBC), they include the capsule's structural vulnerability when the heat shield is deployed. For (SPX), the report mentioned the redesign of a (SPX) rocket canister following a 2016 explosion and its "load and go" process of fueling the rocket with the crew already inside the capsule. "Parachute performance" remained an issue for both companies. There are serious challenges to the current launch schedules for both (SPX) and Boeing (TBC), the report said.
Two people with direct knowledge of the program told Reuters that the space agency's concerns go beyond the 4 items listed, and include risk ledger that as of early February, contained 30 to 35 lingering technical concerns each for (SPX) and Boeing (TBC). Reuters could not verify what all of the nearly 3 dozen items are. But the sources familiar with the matter said the companies must address "most" of those concerns before flying astronauts and, eventually, tourists to space. The (NASA) risk database is updated routinely during the course of (NASA)'s stringent certification process, which includes data collection, tests and collaboration with (SPX) and Boeing (TBC), the people said. The Boeing (TBC) and (SPX) systems have already been delayed several times in recent years, which is common in this sector given the complexity of building multi-billion-dollar spacecraft capable of shedding earth's gravity.

__________________________________________________________________
This has been submitted by Peter A Ansdell, retired Boeing Management employee of many years. Peter has offered this for your reading enjoyment by his efforts as the Founder and Managing Director of his website: http://www.7jetset7.com which he tries to keep readers up-to-date on world jet aviation progress, including current jet airline operators, cargo jet operators, worldwide jet airplane manufacturers, industry control bodies, e.g. (IATA) , (FAA), (CAAC) , space exploration advances, prominent parts manufacturers, with a focus on aviation safety, and new developments. Its all our future. Please help to nurture and assist with its advancement.

(206) 361-1536 (home/office – with recorder)
(206) 779-5703 (cell/mobile – no recorder, no texts)
Website: contact Peter for the cost of access to his website (http://www.7jetset7.com).
Email: p.ansdell@comcast.net