(Boeing news snippets, photos, videos submitted monthly by member Peter Ansdell)

__________________________________________________________________
News Item A-1:
"Lessors Dominate Airbus, Boeing November Orders" by (ATW) Mark Nensel, December 2017.
Boeing (TBC) dominated November's new order tally, booking 159 commercial airplanes by 6 customers, valued at approximately $21 billion at list prices. (TBC)'s November sales included major orders by Ireland-based subsidiaries of 2 Chinese aircraft leasing companies. (CDB) Aviation, a wholly owned Dublin-based subsidiary of China Developmental Bank Financial Leasing Company (CDB Leasing), firmed an order November 8 for 48 737 MAXs and 8 787-9s, valued at $7.6 billion. And on November 18, Dublin, Ireland-based Avolon (AZV), a subsidiary of China's Bohai Leasing, finalized an order for 55 737 MAX 8s and 20 737 MAX 10s, plus options for an additional 20 MAX 8s, valued at nearly $11 billion total. Kuwait-based lessor (ALAFCO) also made a major contribution to Boeing's 737 MAX order book, with a November 12 order for 20 MAX 8s, valued at $2.2 billion. Additional (TBC) orders in November came from Ethiopian Airlines (ETH) (2 777F cargo airplanes) and 2 separate unidentified customers, with orders for 5 787-9s and 1 747-8F cargo plane, respectively.
Airbus (EDS) reported a single customer commercial aircraft order for the month, but it was a significant one, as (CDB) Aviation ordered 30 A320neos and 15 A321neos, valued at $5.2 billion. Boeing (TBC)'s net total order count for the 1st 11 months of 2017 came to 647 commercial airplanes, compared to (EDS)' 331 net order total for the same period. The count does not include military, business/(VIP) and private customer orders. Airbus (EDS) had the most deliveries in November, with 74 commercial aircraft delivered to 28 airlines and 9 lessors. Boeing (TBC) delivered 68 airplanes during the month to 27 airlines and 8 lessors. From (EDS), AerCap (DEA) took delivery of 7 aircraft (2 A350-900s bound for Hong Kong airlines; 2 A320neos bound for (LCC) Azul (AZL); 2 A320neos bound for Sichuan Airlines (SIC); and 1 A350-900 bound for Air Mauritius (MAU)); 4 aircraft each were delivered to AirAsia (ASW) (3 A320neos and an A320ceo), IndiGo (IGO) (all A320neos), and VietJet (VJE) (all A321ceos). Boeing (TBC) delivered 5 airplanes each to China Eastern (CEA) (3 737-800s and 2 737 MAXs), China Southern Airlines (GUN) (3 737 MAXs and 2 737-800s) and Ryanair (RYR) (all 737-800s) and 4 airplanes to China's Bank of Communications Leasing (all 737-800s). As of November 30, (TBC) has delivered 657 commercial airplanes compared to (EDS)' 588. Military, business/VIP and private customers are not included in these totals.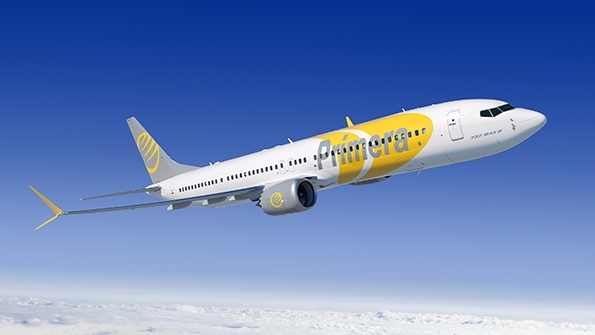 News Item A-2: Scandinavian leisure carrier Primera Air (PRI) has ordered 2 more Boeing 737 MAX 9s, taking the original order signed in May 2017 from 8 to 10 airplanes. (PRI) said the amended order will further enhance (PRI)'s growth potential with possibilities of adding even more new routes to its already extensive network. (PRI) is part of the Primera Travel Group, which has travel agencies and tour operating companies in Denmark, Estonia, Finland, Iceland, Norway, and Sweden. "Being the 1st airline in the world to take the Boeing 737 Max 9-Extended Range into service gives (PRI) a fantastic opportunity and position to grow new traffic on routes that so far have been either under-served or simply very expensive," (PRI) President & Owner Andri Már Ingólfsson said. At the same time, (PRI) said it has signed an agreement with Aviation Capital Group (CGP) for the sale and lease back of 3 Boeing 737 Max 9s that (PRI) has on order from Boeing (TBC) scheduled for delivery in 2019. The total value of the 3 airplanes is $360 million. Under the terms of the agreement, the airplanes will be leased back for 12 years.
News Item A-3: Turkish Cargo (THY) took delivery of its 1st of 2 Boeing 777F freighters.

TBC vs. EDS Widebody Sales
News Item A-4: "Last 10 Years Annual Wide Body Deliveries Including Freighters:" See attached chart: "TBC-2017-12 Wide Body Sales Progress.png."
The "Vero Venia" December 2017 report: It is obvious the last month of 2017 will be quite busy in Toulouse, Montreal and in Seattle. Indeed, the airplane manufacturers will have to increase their delivery pace. From the above chart, it can be deduced that the A350 delivery is ramping up, although it is not as steep as many people would expect. The A330 also ramps down due to the activities related to the A330neo production ramp-up.
On Boeing (TBC)'s side, the 787 seems to have hit a kind of plateau due to the introduction of 787-10 and as the 777 production starts to dwindle down, most probably because the 777-9 has now entered its production phase. As far as the 767 is concerned, the recent rumors about a possible new order for the passenger version might bring the production rate back to a more reasonable level. However, 10 767s per year does not justify keeping the production line open. Most probably Boeing (TBC) will try to maintain 767 production level corresponding to about 20 to 24 airplanes in 2018 onward.
It seems Boeing (TBC) will continue to deliver more wide body airplanes in 2018 to 2020 than Airbus (EDS) will, although the difference will be smaller, thanks to A350 production that will reach its steady cruising speed. Basically, it will be 10 years in a row that Boeing delivers more wide body airplanes than Airbus does. The A380 and 747-8 were not mentioned because those airplanes are in a small market and are to be considered as an epiphenomenon. For sure, when both Airbus and Boeing have published their final 2017 delivery tally, the above chart with the definitive numbers of 2017 will be adjusted.
News Item A-5: "Air Canada Boeing 737 MAX 8 Enters Service" by (ATW) Linda Blachly, December 12, 2017.
Air Canada (ACN) launched 737 MAX 8 operations on the Toronto to Calgary route on December 11. (ACN) has 61 firm orders for the 737 MAX scheduled for delivery by 2021, with 18 to enter the fleet by the end of 2018. The airplane's 1st scheduled flights in North America include service to Toronto, Calgary, Vancouver and Montreal. The 737 MAX 8 is also scheduled to operate internationally to Keflavik, Dublin and Shannon starting in summer 2018.
News Item A-6: Mauritania Airlines (MAR) took delivery of a Boeing 737 MAX 8, becoming the 1st carrier in Africa to fly the newest version of the 737.
News Item A-7: Milan-based leisure carrier Neos (NEO) received its 1st Boeing 787 on lease with AerCap (DEA).
News Item A-8: Powering its fleet expansion and future growth, (EAD) made global headlines at the Dubai Airshow when it placed a US$15.1 billion for 40 Boeing 787-9 Dreamliners. The order enables (EAD) to maintain a young and efficient fleet, complementing its Boeing 777 fleet by providing more flexibility to serve a host of new destinations and help unlock further growth.
News Item A-9: Royal Air Maroc (RAM) Morroco's flag carrier has expanded its 787 fleet to enable growth in international routes. (RAM) announced orders for 4 787-9 Dreamliners (valued at $1.1 billion at list prices). (RAM) had already taken delivery of 5 787-8s flying from Casablanca to serve > 80 destinations across Africa, North America, South America, the Middle East and Europe. Abdelhamid Addou, Chairman and Chief Executive Officer (CEO) said (RAM) is celebrating its 60th anniversary this year and its fleet consists of >56 Boeing airplanes including 737s, 767-300ERs, 787s and a 747-400.
Boeing (TBC) is also a longstanding partner to Morocco, supporting the country's development of its aerospace industry and workforce. (TBC) and Safran are joint venture partners in Morocco Aer-Technical Interconnect Systems (MATIS) Aerospace in Casablanca, which is a high quality supplier that employs >1,000 workers building wire bundles and wire harnesses for (TBC) and other aerospace companies.
News Item A-10: The No 1 and No 3 makers of large commercial airplanes, Boeing (TBC) and Embraer (EMB), were in talks to formally align, although the Brazilian government appears to be the main hurdle, the companies and financial analysts said on December 21. The basis of any combination remains "under discussion," the companies said in a joint statement, and it would have to be approved by the Brazilian government and regulators, the 2 companies' boards and Embraer (EMB)'s shareholders.
(EMB) is viewing 2018 as a "transition year" in which commercial aircraft deliveries and production will dip as the E190-E2 achieves entry-into-service (EIS) and (EMB) contends with the "learning curve" of a new aircraft rolling off the assembly line. The outlook was presented to investors as (EMB) released results for the 2017 3rd quarter, for which (EMB) posted a net profit of +$111.3 million, reversing a -$32.5 million net loss in 3rd quarter 2016.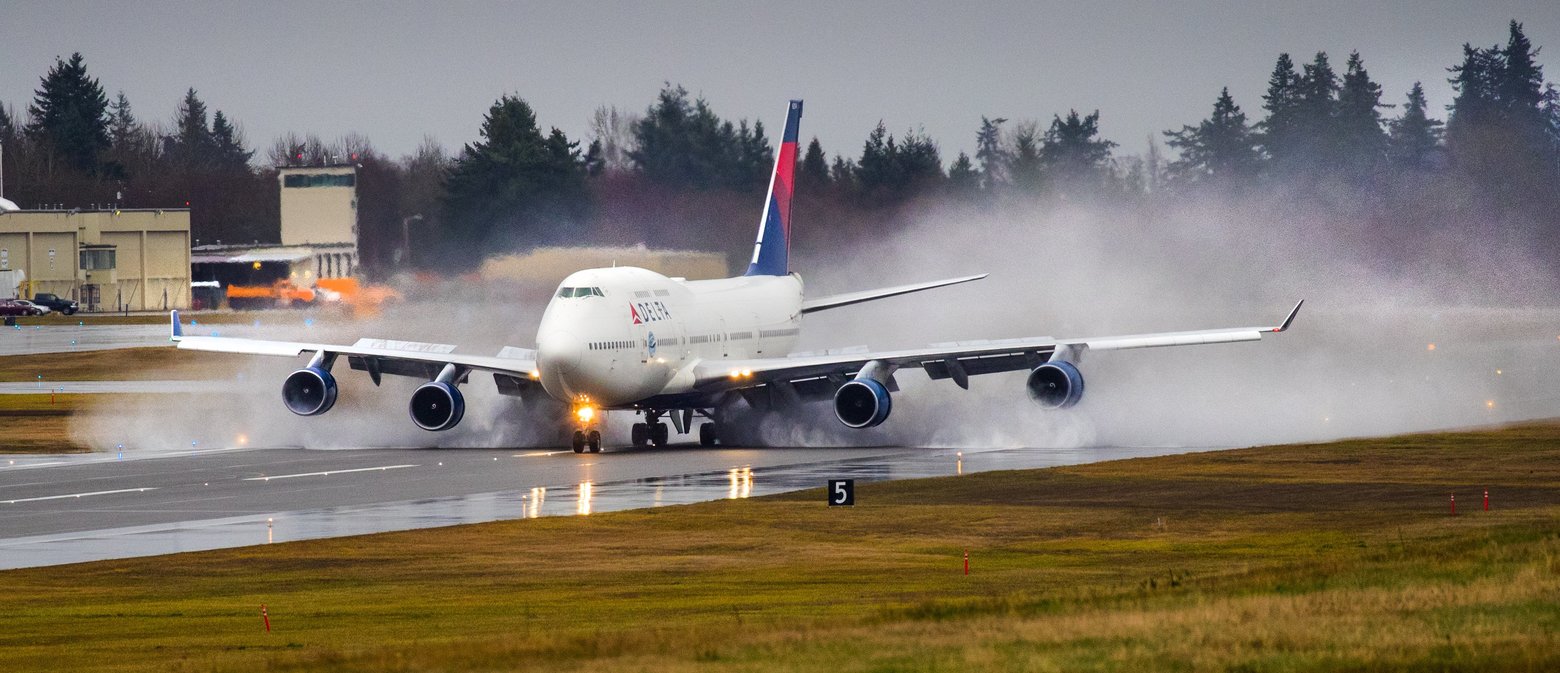 News Item A-11: "Delta's Boeing 747 Makes Stop at Everett Birthplace on its Farewell Tour" By Dominic Gates Seattle Times Aerospace Reporter December 18, 2017.
Delta Airlines (DAL) finally retired the most recognizable Boeing passenger airplane in the sky: the 747 jumbo jet. The last remaining USA operator, (DAL), sent 1 of the few remaining jets in its 747 fleet home on December 18 to its birthplace (the Boeing plant in Everett, where the 747 1st rolled out, just shy of 50 years ago on September 30, 1968) on a special charter farewell tour of the country. The 747 arrived at Paine Field from Detroit carrying (DAL) employees and "SkyMiles" customers who bid on seats for the tour. A crowd of Boeing employees who worked on the 747 program were there to be part of the goodbye event for a jet that, from the 1970s, opened up international travel to millions of people.
After the stop at Paine Field, the airplane flew the short trip down to Seattle-Tacoma International Airport. The tour wrapped up with stops in Atlanta on December 18 and Minneapolis-St. Paul on December 19. After United Airlines (UAL) retired its 747s in November, (DAL) became the last USA airline flying the passenger model of the 747. (DAL) retired the last 4 airplanes in its 747 fleet by year end. (DAL)'s final scheduled 747 flight was Seoul to Detroit on December 20. However, you'll still see passenger 747s flown by big international carriers landing at Sea-Tac, including those flying for British Airways (BAB) and Korean Air (KAL).
Lufthansa (DLH) is flying the newest, largest model, the 747-8, on its Seattle to Frankfurt route. In addition, cargo airlines including (UPS) and Atlas Air (TLS) will continue to fly freighter models of the 747 for many more years. Altogether, Boeing (TBC) has delivered 1,540 of the jumbo jets.

__________________________________________________________________
This has been submitted by Peter A Ansdell, retired Boeing Management employee of many years. Peter has offered this for your reading enjoyment by his efforts as the Founder and Managing Director of his website: http://www.7jetset7.com which he tries to keep readers up-to-date on world jet aviation progress, including current jet airline operators, cargo jet operators, worldwide jet airplane manufacturers, industry control bodies, e.g. (IATA) , (FAA), (CAAC) , space exploration advances, prominent parts manufacturers, with a focus on aviation safety, and new developments. Its all our future. Please help to nurture and assist with its advancement.
(206) 361-1536 (home/office – with recorder)
(206) 779-5703 (cell/mobile – no recorder, no texts)
Website: contact Peter for the cost of access to his website (http://www.7jetset7.com).
Email: p.ansdell@comcast.net